Her Fairytale
October 8, 2011
The waiting has encompassed her entire life and even she is willing to admit it hasn't been torture. There have been parties and laughter and new things. She has seen the best cities and beaches and enjoyed them all immensely, but they were mere appetisers, toys to amuse her until the real game began.
Tony, he insists on Tony though it's hardly a real name at all, she's determined to coax him back to Anthony after the wedding, he is divine. He awaits her at the altar in full morning dress but really she would like to have him in white because he is an angel. Broad shoulders, good jaw, deep, thoughtful eyes. His hair has been cut for the occasion, the only part of the wedding he paid for, and it is lovely, swept off his face, honey blonde. Even walking up the aisle she cannot help but admire it and hope the children inherit, for of course there will be children, rather than her darker tones. Still, she has the presence of mind to draw her eyes from his hair and savour the church and the people all turned to watch, those stares fixated on her. She can hear their thoughts like a murmur around the room; radiant. And oh, she is.
She takes her place by his side, and vows are exchanged and her mother crying behind her and the music is glorious. It fills up every pocket of her being and she can feel that her joy is a solid thing. Retracing her steps down the aisle with Tony now instead of her father, she feels there has been a physical change. Everything she has ever felt has been a preparation, a shadow for what's inside her now.
At the door of the church her eyes meet Tony's. She notices they look particularly lovely, she doesn't think she's ever seen lovelier eyes, before she sees the triflings of trouble around the corners. 'Are you alright?' she asks but as soon as she's said it the eyes relax, it was only a hint of something anyways, and he's smiling. It doesn't bother her in the least that his eyes do not echo hers, that his face is not quite a reflection of her own. Nobody could enjoy the day more than her after all. The marriage can be about their partnership and love and unity and all that but today, the brilliant winter wedding, belongs solely to her.
Tony is by her side the whole afternoon at the hotel, taking the congratulations and compliments, blushing at the speeches, cutting the cake. It is only when night draws in, it comes early these winter days, that she realises she has lost him. She fancies another dance and her eyes search over the crowd. He is not there amongst her distant cousins and friends of her father's and old school mates, all growing steadily merrier.
It suddenly seems so important that she should find him, his darling hair and voice and arms and eyes. She asks several people, growing more desperate and anxious as each one shrugs and asks where she got her dress. She needs him, she must see him, to know he is real and solid. Relief floods through her when a nameless, faceless guest tells her, as though it were of no consequence, that he left through the double doors for air. The bride leaves her own party because it's obvious Tony has gone out for a cigarette and she must find him and stop him and touch his face to make sure he's real.
She hears his voice first and he's not alone. She knows, perhaps she's always known, and it's lead in her lungs. It wouldn't be so dreadful if she had discovered them entwined in a kiss. She can forgive an instinct, a fit of passion, a temptation. This is worse. This is them by the stair smoking together, taking refuge from the façade. This is Tony sitting on a bottom step in such easy familiar terms with a man she recognises from the background of photos.
'Hello,' she says and he leaps up and she recoils internally to see the fear in his eyes, the rawness of his expression. 'You're wanted upstairs,' she says and she is not herself.
'Of course.' He smiles and it's white as ever yet now she sees the sadness tucked away within it. Has it been there all this time? She wants to ask him but she can only look, face frozen as her insides surge. He seems on the verge of speaking and then swallows it and rushes past her, unable to contain himself, back to the party.
The man at the bottom of the stairs has remained sitting; she can almost see the space where Tony rested his head. The other man, he looks after Tony with such tenderness, stares at the place where he disappeared around the corner with such a sad, understanding expression… she cannot stand it. Yet her mind is too full of Tony, of his soulful eyes and chin tensed to prevent a quiver, to find any room for hatred of this other man. She wishes for something stronger than crying to express herself.
'I'm sorry.' The other man won't look at her.
'Is it my fault? That he looks that way?' she asks. She must know. She'd been aware Tony wasn't all that comfortable in the wedding planning but she hadn't meant to force him. She'd though it was love, hadn't he? Had she coerced him into it, pressured him until he felt trapped? These thoughts shake her voice but the other man knows exactly what she means.
'No,' he says. A pause, it is so complicated he can't find the words, and then, 'It's everything – his parents, his friends… He does love you, in a way.'
'But he'd rather be married to you.' It's not a question and she feels so dead that there's no pain left.
'It's not an option.'
'It could be. We could divorce.' The very word conjures waves of shame but the thought of Tony's face and that resigned defeat is worse. She could survive a divorce.
'No you can't, it's not what he wants,' the other man says. 'Even if he were free we wouldn't be together, he's too much of a coward.' The other man has attempted some hatred in those last words but they sound pathetic. She can hear him bitter and sad and wants it for him, wishes she could make him happy. He shakes it off, he's stronger than her, he's been suffering longer, and gives a pained smile.
'I'm sorry you didn't get your fairytale,' he says.
'I'm sorry you didn't get yours,' she says and she means it. She would like for her dream to be true, to have her angel husband properly in love with her, to be deserving of the jealous looks. But more than that she would like to reach out and smooth Tony's face out and join his hand with this other man's and let them walk away.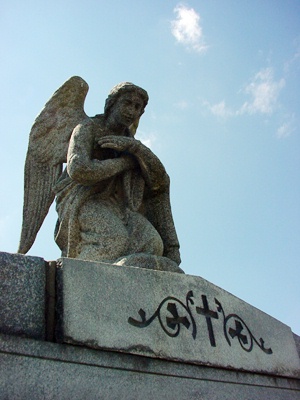 © Greg K., New Lenox, IL