Waiting
October 7, 2011
My fingers fumbled around with the cell phone placed in my hands. Waiting for someone was never in my agenda, but some other conflicts had me here on this bench in the middle of the mall. I had just gotten off the phone with him, and he sent me a stream of apologies for his tardiness. We were meeting up today to go to the movies. A date, that is what I would call it, our first one. We met at camp, and he literally had me at gun point. The first time that we actually talked to each other was when we were playing laser-tag. I was hiding behind a huge boulder and I got shot by someone, so I started running to a new place. I wasn't looking and ended up running into him, literally. From then on, we were inseparable. I don't mind waiting as long as it was for him.

Tired of sitting I mindlessly took to my feet. Shuffling into the mass of people I began walking with no destination. I let my mind wander as I thought about him and when we were together. I remembered the feel of his hand holding mine, the sensation of being in his arms, the completeness I would feel when he was with me. I was anxious to have those feelings again. A movie of memories floated through my mind. I grabbed my popcorn and a slushie and sat back and watched.

I snapped back to reality with the familiar ringtone that belonged to his contact. I smiled picking up the phone and hearing his smooth voice. He was here. I listened to him describing his location, which was near Macy's, and I replied telling him that I was by Journey's. We both started walking towards where the other was, and we hung up the phone in a rush to find each other. It had only been a few days since we had seen each other, but it felt like it had been years. I spotted his figure from across the mall and slightly increased my pace. He hadn't spotted me yet, but once we were right across from me we both smiled at the presence of each other. We neared closer to each other and I felt the familiar feeling of his strong arms around my waist. A couple other friends had joined me to say hello, so I watched mindlessly as they greeted each other. I smiled when they asked him to dance a little for them, and that smile grew bigger as he began his routine. He likes tutting. Tutting is where you dance with your fingers, wrists, and elbows and move them in sharp, distinct movements. It still amazes me every time he does it, because he is just so amazing at it. He finished and his friends gave him a handshake before they let us go.

He smiled at me as we began to walk towards the food court. He held out his pinky and I grabbed it with my hand. He loves when I hold his pinky, he thinks its cute how small my hand is compared to his, but he laced our fingers together after a few minutes. He held my hand tightly and traced my knuckles softly with his thumb. I smiled, and I don't think I ever stopped smiling until we had to leave each other. We walked at our own pace through the mall, not having a care about anyone else but the two of us. I couldn't help but keep on glancing at him, and catching his gaze every once in a while. I couldn't get it through my mind that I was actually on a date with this amazing guy.

We made it down to the food court where the movies were and got our tickets for a movie that we weren't really planning to watch. He grabbed my hand and led me over to a table where we could sit for a while. I spent the week working on a notebook for him to take with him when he moves. There were a whole bunch of random facts about me, silly drawings, and other stuff that I thought he would like in it. We spent a little over an hour going through the notebook together. We smiled and laughed together; we were just happy to be with each other. In any moment of my life I had never been happier, because I could just sit there and look in his eyes and see the same kind of happiness I was feeling reflected in his eyes.

It wasn't that we were out of time, but rather that he didn't want to read it all at once. He wanted to save the rest for when he was gone and moved in to his new house to make it feel more special. I didn't mind. I was comfortable sitting there with my arms tangled with his. I drew pictures with my finger on his arm as we waited for the time to pass by.

It was about twenty minutes before the movie would start, and we decided to go in and sit down. Usually, he would get a blue raspberry slushie, but he decided that the line was too long and decided against getting one. He told me that he really didn't want one anyway. He took my hand in his and led me to the theatre. Luckily, they had the seats where you could lift up the arm rest. He sat down first and I found a place next to him, conveniently, in his arms. He wrapped his arm around my waist and held me tightly. I laid my head on his chest and listened to the rhythmic pattern of his heartbeat. I looked up admiring his adorable face. His gaze shifted to meet mine, and he leaned down to kiss me.

I wanted to stay in this moment forever. Everything was just so perfect and it all felt so right. Being in his arms, listening to his heartbeat, feeling his lips meet mine; it was all just so perfect. At the end of the day I didn't want him to leave, and I know he didn't want to leave either. He had to though, and I knew I wasn't going to see him for a while. That last kiss we shared was so breathtaking, but so sad. I promised myself that I wouldn't, but I cried so hard when he left. He took a piece of me with him, and I don't mind that, because today I can call him mine. He has that piece of me and I believe that I have a piece of him. This day was the last one that I spent with him in person, but I know our relationship will be that much stronger because we can be apart and still feel so much for each other. We both don't mind being away from the other because we know we will see each other again, and we know that we will always feel the same about each other.

Since then I've accepted the fact that I have to wait for him. I've thrown away my agenda. I don't really know what to expect when it comes to my boyfriend and I'm waiting for him now, and I will be waiting for him for a while. He lives far away from me, so I've come to accept that waiting comes with him. It's a package deal. I don't mind it anymore though. He changed my mind about waiting. I love him so much that I am willing to wait two years before we can be together on a daily basis. But I don't care how long I have to wait as long as we can be together. I used to see myself as one person, and I had to depend on myself. I only needed myself. Now I realize I need him too. I don't need to be alone, and I don't need to only depend on myself. He will be here and I'm not the only one waiting. We are both waiting together, and that's okay, because we are together.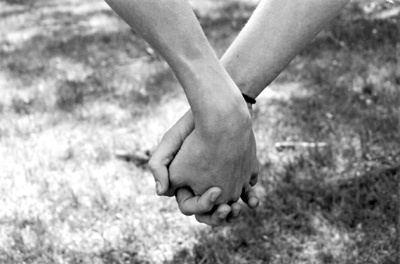 © Alexa T., Pompton Plains, NJ