Let's Have Dinner
September 12, 2011
A pot of noodles bubble on the stove while I slide cheesy garlic bread into the oven. The heat released from the oven whoosh's against my face as I shut it's door. I set the timer and work on mixing the ingredients for homemade Alfredo sauce into another pot on the stove. As I'm stirring someone comes up behind me, pulls back my hair, and kisses my exposed cheek, my husband. I look towards him and smile, happy to see the father of my children after a long day.

"You're home early," I say, playfully grabbing his necktie and pulling him in for a quick peck on the lips.

He holds his face near mine wanting more, but glances towards the boiling pasta and decides otherwise. I turn down the heat and watch him expectantly.

"The after school PTA meeting was called off and none of my students came in for the make-up lab, so here I am," he says with a broad smile.

I dump the limp noodles into the strainer and run cold water over them.

"Well I wouldn't miss a lab with you, I'm hot for teacher," I say with a wink.

He chuckles and stands by my side; ten years and the butterflies still haven't gone away.

"Quoting bad music now?" he asks with a grin.

"Hey, it works on you Bill Nye."

He chuckles again and stares at me adoringly, "Yes, yes it does."

Suddenly high pitched giggles flood the air and our twin girls run into the kitchen, Lily and Rose.

"Daddy, daddy!" They squeal in utter happiness.

"Well hello my little flowers," he says scooping up his four year old daughters.

The timer beeps and I mechanically pull out the golden-brown garlic bread from the oven, placing the cookie sheet on an open spot of the counter.

"Doesn't the food mommy made us smell good?" my husband asks our children.

"MmHmm," they say in unison "afedo iz aur favit!"

"Go sit at the table and maybe I'll share some AFEDO with you" says my husband with a wink.

He sets them down and helps me set the table. We dish up food for Lily and Rose and cut the pasta into more edible chunks.

On our way back to the kitchen my husband stops and pulls me into his arms.

"Have I mentioned that I love you today yet?" He asks then brushes his lips against my forehead.

"Maybe," I reply, both of us knowing full well he had.

Both of his hands find my face and he looks me straight in the eye.

"I love you," he says intensely, brushing strands of hair away from my face in the process.

"I love you too," I answer back, feeling tears brim my eye lids.

He smiles and pulls my head towards his warm, safe, scruffy neck.

"Let's have dinner love."

I pull back and smile, "Let's."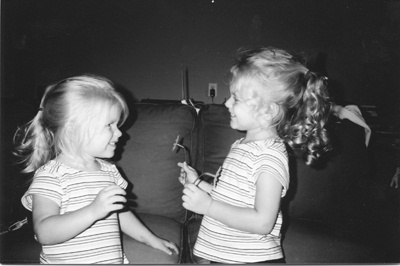 © Elizabeth S., Pompton Plains, NJ