Headrush
September 12, 2011
Sweet, soft, slow.
Hard, demanding, fast.
Head spinning, knees melting, hands and arms in-twine. Moving closer, and closer, seeking refuge, heat searing.
Hard unbreakable muscle, against sweet soft flesh. Inhale the fragrance of flowers, and smell the sent of greatness. Hair being pushed back, up, and around.
Flexing, seeking, and relaxing muscles, in the little space.
Constant thrill.
Hard muscles seeking sweet victory over welcoming softness.
Lips being bruised, tongues playing a game.
Constant blur of things around, squeeze of the ribs without a sound, taking your breath away; fingers finding a sweet spot in your neck, making you lose your power over the way.
No eye can see what a true bliss this can be. Holding closer than ever before, melts in your arms and you've won the war.
Groans and moans that make shivers in the bones.
Sweet, soft, slow, great moans and groans;
hard, demanding, fast, closer than ever before and winning the war...
What could be better than a kiss as desirable as this?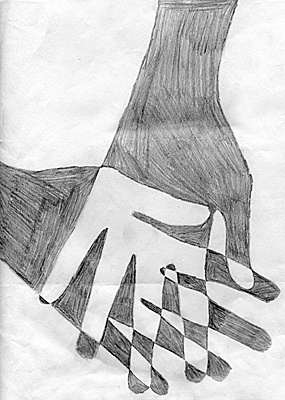 © Warlito B., Tamuning, GU