Waiting for the Notes
August 24, 2011
"Rose," Someone grabs my shoulder as I half walk half jog to my car. It's Ian. He jerks his head over toward his grey Sudan, expecting me to sneak into his front seat. I normally would, even though Sarah is standing just yards away, her sleek blonde ponytail swinging as she laughs at one of her friend's jokes. You would think he would want to be more discreet with his girlfriend so close by.

"Not today Ian," I say, turning back to my car.

"But Rose," he repeats urgently, this time at a harsh whisper, his eyes darting back from me to the door of his Sudan.

I ignore him and get in my car and drive off. Today is Tuesday, and Tuesdays are mine. I drive down Lincoln Avenue and speed up as I turn onto Shamrock Blvd. It is 3:30, and I need to be back by 3:37. It always starts at 3:37 exactly. Not a second before or after.
When I pull into my driveway, I scramble to dig my house key out of the bottom of my backpack. Once I find it, I open my door, toss my bag to the side and run up the stairs to my room. It is almost is almost time.
I struggle to open the window adjacent to my bed; for some reason it always gets stuck. Once I manage to push the window all the way up, I lie back on my bed and wait. 3 seconds, 2 seconds, 1 second. 3:37, that's when I hear it.
I almost feel the music as it floats through my window. The soft melody of a saxophone; the deep jazzy tune sinking into my being. I imagine tendrils of music notes streaming through my open window, winding around and holding me in a soft embrace. I let out a nice long breath, the tension leaving my body.
The sound is coming from the house kitty corner to mine, from the room on the top floor. The sound, the beautiful soothing sound, is coming from Johnny Sandon. The boy who looks down on me. The boy who once slipped me a note in math class that simply read "You are better than this." The boy that destroyed me with his words. But, this sound, at 3:37, is my only constant, and he has the power to take it away.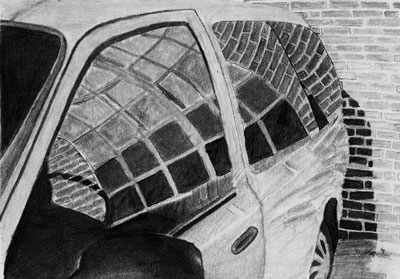 © Andres T., Monte Vista, CO