Real Love
August 23, 2011
As I sit here, on the porch, alone, I can't help but remember you. I can't help but remember how happy you made me, how good I felt whenever you were around. I remember your chocolate brown eyes, your dark air, and your tanned skin. I miss you.
I remember when I met you. I didn't look at you twice. There was someone else I was after. The same person every other girl was after. I thought I was in love with him, but all that I had fallen for was the idea of love.
We were friendly to each other. A wave in the hallway, a conversation in homeroom, nothing out of the ordinary. But then our waves turned into hello's, and our small talk turned into deep conversation. I still was infatuated with another, more popular and unattainable, but I noticed you.
I got him. I wowed him with the beauty every youth possesses. But that was all he cared about. He didn't care if I was intelligent or an idiot, athletic or theatrical, artistic or a writer. But I didn't mind at the time. I was still in love with being in love.
Then things changed. I got older, and much, much, wiser. I craved the connection we had with him. But he was incapable of giving that to me. He said I was becoming too boring for his taste, and left me, replacing me with little effort at all.
I was devastated. I felt like I had just lost everything. I cried on your shoulder, talked for hours with you so that I would not have to be alone. It was only after some time that I realized that I did not miss him at all, that all I missed was the thought of having him all to myself.
You were always there when I needed you. When you weren't around, I wanted you to be. I wanted you around more than I ever wanted him to be around. Him, I couldn't care less about. You, you were becoming my world.
I was in love again, although I was not in love with an idea this time, rather, a person. You. And you loved me too. You were mine, I was yours. This was how it was supposed to work.
It was so much easier with you. It didn't feel mechanical, like we were only following routine. We didn't even have to think about it. It felt normal, as simple as breathing.
You are no longer here. You are gone, in a better place, with me left behind. But you are still with me. You will always be with me. the love I have for you, and the love you have for me, will always keep you with me, and I with you.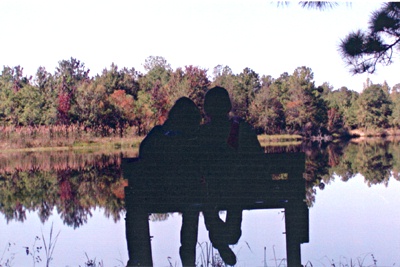 © Heather J., Slidell, LA