The Lonely
August 19, 2011
Shattered pieces of life. Broken shards of love. Where do I begin with trying to piece them back together? On this chilled winter morning, encompassed by past memories and regrets, I ask myself this question. And, with no satisfying answer, I cry off my face. Again.
Will I ever do anything right? Or is this an endless circle of pain and misery? I fear every aspect of my fragile life can come tumbling down with no return at any given second.
What is happening to me? I'm the ghost of the "me" I want so badly to be. I'm the shell of a girl I used to know very well.
Crying there, in that empty room, I begin to contemplate letting all of the lonely in. I wonder whether to give up, let go. But not yet.
I can't go to bed. The pain of one more night without you kept me and all my senses wide awake, trembling with uncertainty for my future. But I feel the lonelines there. Like a blanket slowly suffocating me, I know it will hold me fast until I can sleep with some sense of peace.
Which is when I begin to slowly let myself go. Humming an
old song, I let go, and all of the lonely takes my place.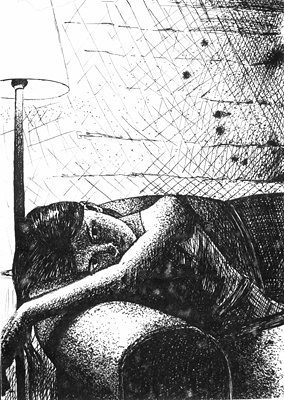 © Elisabeth R., Elmont, NY