The Only Exception
July 8, 2011
The moon was shining high in the sky. The trees were covered in lights and connected by strings of lanterns that gave a warm glow to the outdoor dance floor. It was a beautiful wedding, held on a beautiful September night.

The wedding and reception were long over, and the lucky couple, my music teacher and her new husband, had already left. She invited all of her students; the band played her wedding march. The only people left were a few wait staff, the DJ, my friend James, a trumpeter, some other band members, and me. My parents were caught behind a train, but they called and said they would be here shortly.

Suddenly James stood up and walked to the DJ. They exchanged a few words; I pretended not to be watching. He came back, holding out his hand. "The Only Exception" by Paramore floated through the sky. I was trying to avoid the truth: he looked so handsome under the lights.

When I gave no reaction to his invitation, he took my hand and guided me slowly to the dance floor. I told him I was too tired, that I really didn't want to dance, but I followed him anyway. We reached the center of the floor and he spun me before finally resting his hand on my back. We swayed and stepped in time with the song, a waltz. We hardly noticed the few others in the room who were cleaning from the party.

The music was low and we shared a few wonderful words.

"You look really beautiful tonight." I know I blushed but I tried to keep it cool.

"You don't look half bad yourself." I smiled, more like smirked. "You clean up pretty well."

He smiled back, "I've been trying to get a dance with you all night," he spun me again, "but I was too nervous with all the other people around."

"All night?" I blushed again. "I was hoping you would ask, but when you didn't, I just kind of assumed you weren't interested."

He spun me again. I whirled and my dress lifted slightly on air.

"I was very interested. Believe me."

We were silent for a while as the song took off into the bridge and we kept stepping in time. As it reached the final chorus, we stopped dancing and just stood still. He looked down at me.

"Would you mind if I kissed you right now?"

I could tell he was nervous about asking, and I was nervous about answering.

I have always been skeptical about love; I've seen so many relationships fall apart.I fumbled over my words as the song spelled out my thoughts. Haley Williams said "I'm on my way to believing," and I realized I was too. Instead of attempting to answer, our eyes met and we leaned in.

His lips reached mine just as the song's final chord echoed through the air. It was a slow, short, meaningful kiss, and the feeling lingered until long after I had gotten home.

Best.
Night.
Ever.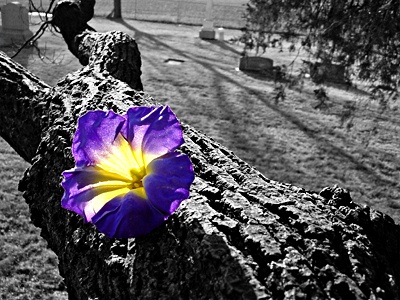 © Greg K., New Lenox, IL