This Guy
June 4, 2011
You don't know this, but I am really starting to fall for you. You are so different from anybody else that I know. I look over and I think I caught you staring, but I am not quite sure.

"Anytime now," I think, "just walk over ever and talk to me."

I see you leave your friends, and start walking my way. My heart starts beating faster, you are finally going to talk to me. Just before you get to me I feel like I am going to faint, but just as soon as that feeling came it left. You walked right by, not even stealing a glance at me.

"Well, obviously he doesn't feel the same way about me," I murmur quietly under my breath.

The final bell rings and I jump, lost in my thoughts, finally time to leave. I have that quick thought of running after him and making the first move instead but quickly change my mind. If he liked me he would have talked to me, not just walked by.

The homecoming game is tonight, I think I might go just in hopes of seeing him. More than likely he will be with his friends, not even noticing me.

On my way home I get an anonymous text.

RESTRICTED: Hey I saw you today, meet me at the game tonight. I really like you.

ME: Who are you?

RESTRICTED: You will find out tonight, I will be over by the concessions, meet me there. I have something to tell you.

ME: Well okay. Before I go, do you go to my school?

RESTRICTED: Yes, see you tonight. :)

Wow that text was so weird, I didn't expect something like that to happen to me on one of my worst days. I wonder who it is, maybe it is my dream guy but I highly doubt that. I get home and try to make myself look seemingly decent, don't want to look bad for mystery guy. Time seems to be moving so slow, I wish it would go ahead and be 6:30 so I could go ahead and leave, but I am not sure if he will be there that early. He never did tell me a time to meet him there.

Time to leave, my mother gives me my curfew but I barely here her distracted by millions of questions running through my head.

"Who is he?"
"Did he actually mean to text me, or was it a wrong number?"
"Is he my dream guy?"

Driving, I breath calmly trying to calm down my racing heart. He has to be the one, I can feel it. I pull into a parking lot at the school. Checking my hair and makeup one last time I make my way towards fate.

I am a little early, but I see a few of my friends so I go and talk to them neglecting this big news that I am dying to tell. I decide to keep it to myself, just in case this isn't what I am hoping that it will be.

I stand around the concessions, briefly catching bits and pieces of the game, but mostly looking around for mystery guy. I see several different guys, none are acknowledging me though. Finally I see my dream guy, and he's looking my way. Could he be the one, did he send me that text? He turns and walks off to his friends, maybe he is not the guy. Tears well up in my eyes, I was really hoping that he was the one.

I feel someone tap my shoulder, turning around slowly, I am anxious to see who I would find. It's my dream guy, he gently uses the tips of his fingers to wipe away the tears that had fallen earlier. He leans closer to me, and whispers these words that I will never forget.

"You are beautiful, and I have liked you for along time," he said.

I looked up into those amazing eyes, and I said the words that made his night.

"I have liked you too, and I am quickly falling for you."

He pulls me in for a hug and I know that he is the one for me.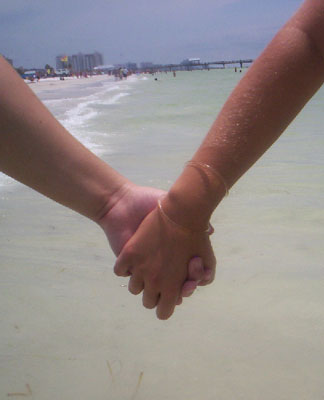 © Belinda H., Palm Harbor, FL