Lucky to Be Yours
June 11, 2011
She's here. She's beautiful. And she's mine. As I thought that over, I remember how long I've been trying to figure out what I ever did to deserve her. I decide not to worry about that; I have her, by some miracle from heaven, and I'm not complaining.
I look at her, with her beautiful brown eyes ("they're hazel!" she always says, although I've never seen them any color but brown), long, dark hair, and soft lips curving into a smile as she looks into my eyes, and once again can't help but wonder what such a beautiful girl could see in me. But it's not just her beauty that impresses me. She is the nicest girl I've ever met. She goes out of her way to help random strangers she sees upset, and for her friends she acts as a therapist, a comedian, an audience, a doctor, and just an amazing friend. For her boyfriend, she does even more. She loves him unconditionally and sees him as the absolute perfect boy for her, despite the things he's done. She helps him see that he can still be a good person. And she doesn't even realize how much she means to him.

* * *

I sit on his lap, and he makes me feel beautiful, as he always does, even if I know it's not true. I can sit on his lap without feeling fat, and he doesn't even mind the scars. He puts his arms around me and I feel safe, for once having a place where I belong. I look into his rain-colored eyes and look at his goofy smile that he can't seem to help but make when he sees me. Although I can't imagine why. He's amazingly hot: big arms and a strong chest, tall and skinny, but not too skinny, long, dirty-blond curly hair (he insists it's dark brown), and my favorite, big, soft lips that I love to kiss. He is a gentleman, and goes out of his way to be polite, maybe even too polite. And he sees me as some kind of princess to his obvious prince charming personality. He gives me advice, cheers me up, compliments me constantly, and is just there for me no matter what I do. And he thinks HE'S the lucky one.

* * *

"What did I ever do to deserve you?" they both ask at the same time. Smiling at the fact that their minds have become so similar, they moved closer and their lips met. they let that question go, and both knew they were lucky to have each other.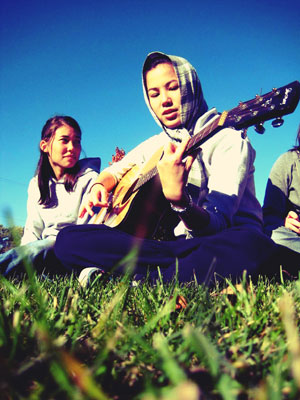 © Seita O., Palatine, IL