Thoughts in the Rain
June 9, 2011
Pitter patter. The raindrops fall onto my pink hair, making it seem even more outlandish to those beside me. I feel their stares concentrating on my hair, like I'm the single oboe that sings mournfully with the cheerful violins. I'm killing the evening they say.
People all around me scatter towards their homes or to those luminous, blinking signs that read 'World's Best Cookies!'' It's lovely that even in the rain, I can smell that sweet aroma that this city is famous for. I close my eyes, wondering what they taste like. Can everyone's opinion be so analogous? Are they really all the same? Is that why they don't understand? Pitter patter. The rain hushes out the noise, making me remember.
You told me once that you loved me. It was in second grade, when you held my hand in the rain as I was crying, because that snippy Carmelia Linellie made the class turn away from me. I looked at you and wondered if you were telling the truth when you told me you liked the rain. You told me you loved me. I left. Was it true, or does elementary definition of love mean friends?
I love the rain. I love you. (Did that really just come out?) I like to stand out in it for hours at a time, because it feels like I have company with millions that just love to cling to me, whispering 'Will you let me drop to the ground? Were you just an Everybody?'
I love you. No, I don't. I respect you. You saw me at school every day and smiled, waving, while I never did. I did in my head though, but you left so quickly with Everybody, I couldn't tell if you'd notice. Was it really me you were waving at?
It hurts when you love someone, and as much as I'd like to, I can't, since I don't believe in it. It hurts right? That's why mom took those pills, to stop it.
Pitter patter pitter patter. It's a rhythm that my heart beats to; millions of shattered pieces that slowly beat together for my sake of living. The rain stops falling on me but I still hear the sounds around me. The sounds of pedestrians lamenting the weather, the sounds of cars honking, they wither out my single tune.
I open my eyes. A hand is outstretched over me, the other carrying a yellow umbrella over my head, making me feel secure. I look up, and you smile. I wave for the first time, and you let the umbrella fall. You hold me against you, and this time, I stay.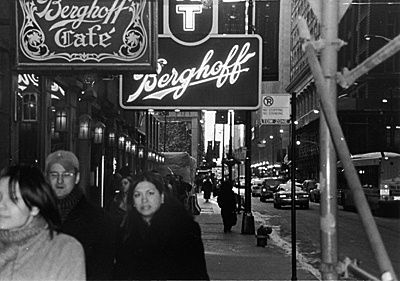 © Julie J., Mendham, NJ