Something Left
May 26, 2011
A long corridor stands before her as she runs. Nothing matters more than simply getting away from the fire burning only moments behind her. Should she stop, she would die. Tears gather in emerald eyes as she runs, unable to hide her pain any longer. Nothing matters anymore. As long as she runs, she will be safe. But what is safe now? Now that he's gone, why should she keep running?

Her cousin flashes through her mind, young and seemingly innocent, yet a criminal mastermind who's completed so much. He would be lost in this world without her. She must keep going. But…

Pain filters through her carefully guarded heart as she runs, but it is not from the exertion. No, this pain is something less bearable, something that will forever be with her. A reminder never to get too close. A body fills her vision, so very dead, and the tears finally start falling. Is this what you felt Demetri? She wonders, thinking one last time of her one true love, now lost to her forever. Black hair falling in his golden eyes, tanned skin, and lips as soft as can be against hers.

Only for her cousin does she still have the strength to run, to get away from the fire following her as she dashes down the stairs, only too aware of the creaks and cracks that stalk her. She begins to gasp for breath, the beginnings of panic setting in.

No. Keep going. Panic is the enemy; she tells herself firmly, reaching the bottom as the staircase falls apart. A close call.

Fire burns everywhere here and she has no place to turn to. Far away, she can hear people calling her name, screaming for her, but no distinguishable voices. If he had still been alive, she would have heard his voice out there, calling for her. NO, that wasn't right. Demetri would have been here beside her, never leaving her side. He was too amazing to be true. And he was dead.

Seventeen was too young! You should be here! You left me alone! She screams in her mind, the smoke choking her. Nothing is in focus now – there isn't enough oxygen in her brain. She feels herself falling, feels the flames against her face, feels herself slipping into blissful peace, one from which she knows she will never wake. But that isn't so bad, is it? Is it really? No one is there anymore. Her cousin has become a sociopath after her boyfriend's death, unable to cope any other way. Only eleven, yet he's done things no man should ever know of. How many people have died at his order? Too many for such a young age. Her parents? Long gone, in a fire such as this. Her so called friends? Where were they when she needed them? Gossiping about boys, acting like he had never been there. Like he had never touched them. Because he hadn't. He had only been hers, and she his. Everything else fell away when she looked at him, even the last time. The last time… He had been still and cold. There was no life in him. Her young cousin had been crying – crying! – Over the brother he never had. And she… she had been in shock, unable to comprehend the fact that the only one who ever understood her, the one she gave her heart to, was gone forever.

"Estelle!" she heard, but it was too late now. There was no time left…

Strong arms enveloped her, and the fire faded away. It wasn't her Demetri. HE was long gone. Then who…

She felt herself sitting on the grass, and finally chanced opening her eyes. The house where she had grown up was a mass of red and orange, burning away to nothing. Water streamed from hoses, but only to stop the blaze. The house itself had no hope.

And her savior in front of her, black hair, dark eyes, and cinnamon skin, worry clouding his features.

"Raphael," she breathed. Maybe she had something after all.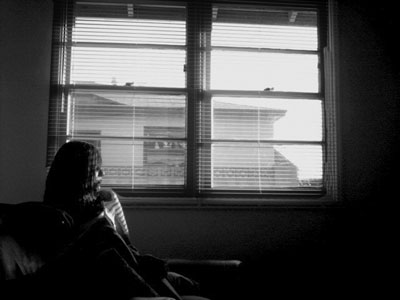 © Roxana R., Tustin, CA