What friends are for
May 13, 2011
Once she locks herself into her bedroom for the night walk quietly on your tip toes to your window. Sit quietly on your windowsill and allow your shaky hands to unlock and open the creaky window. Lift up the heavy window as the white paint begins to crack off, once the window is open enough pop out the old screen.

Don't look down while you climb across the roof, once you reach the lowest part of the brown rusty roof jump quickly and attempt to land on your feet.

Pull the sleeves of your favorite crew neck with the words Eastern Illinois written across the front hiding the fresh bruises planted all over your arms. As you walk towards his house run excuses through your head to feed to him so he doesn't worry. Search through your satchel to find perfume to cover up the stale beer smell that is soaked into your clothes.

Five minutes into your walk down the dark side streets of your neighborhood you will see the light on in his bedroom, start walking faster.

Once you reach his one-story white ranch walk up to his bedroom window which is open and climb through. Whisper his name as you climb one leg through. His eyes will slowly start to open as he turns his body towards the window on his twin sized bed with rocket ship sheets. Only adds to his charm, you will think to yourself.

Once he realizes you're here he will sit up with a worried face; make sure your sleeves have not moved up, otherwise your due for an explanation. He'll whisper your name with a raspy voice followed with a questioning of the time.

"2:15," you reply with a remorseful look.

"Is everything okay, what happened, was she drinking?" he throws all of this out in one breathe.

"Its fine, I just didn't want to be alone tonight," you'll try to assure him. But the way your face looks in the dim light does not convince him.

"Let me see your arms," he insists as he grabs your hands delicately, the opposite of the way she touches you.

Try and resist, put up a fight or try to distract him with a smile only you know is faked.

When none of that works surrender to him rolling up your worn out sleeves. Try not to flinch when he comes near, he is not like her, and he won't hurt you. Look away so that you don't see the sorrow filled look on his face.

"Oh my god," he'll whisper not realizing the words where said aloud.

"I'm fine, it was just a bad day. Really I am fine," you'll try defending her but as soon as the words come out, so do the tears. He'll pull you close to him until your head is buried in his shoulder. As your tears make you tired, he'll soothe you to sleep with words of comfort.

Tomorrow you'll have to face your mom, but for now you are in the safe haven.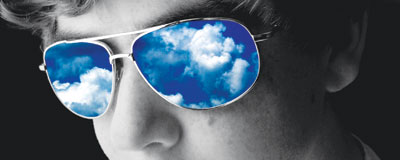 © Joseph B., Mesquite, TX