Offline
May 13, 2011
Press the button, I told myself. But my finger didn't move.

He's only a click away. But I just stared at the bright screen. The light was green, he was online.

Pain bubbled inside, he left I thought.

But he didn't want to, another side of me said. The two sides argued all the time.
He still left.
But he loved you.
Does he still?

My hand quivered on the mouse and the other clutched into a fist. His avatar was there, but his face was not smiling out at me. But something was wrong, his smile was off as if he was smiling but not truly. He wasn't smiling just to smile as he used to. He looked harder and sadder. He looked just like I imagined he would, sitting at his computer, slumping in his chair. His curly hair and hazel were so close; I thought I could almost reach out and touch his face.
What would I say?
He might not want to talk to me.
I might not want to talk to him.

For minutes I stared at the screen not really thinking just remembering. I remember his voice and how I longed to hear his sarcastic drawl. His joking eyes that looked at me and saw me how I wanted to be. I remembered how annoying he could be and how sweet he was.
Hey. That's what I would say. It is like a joke between us, at least it was.
He probably hated me, I knew at times I hated him.
He would probably say hey back, when it came to greetings he was never original. I smiled a bit then looked back to the open window on the screen I closed it. And logged off of my computer, I was proud of myself; at least I thought I was. As the hot water and steam I let my tears soak into my skin and blend with the hot, humid air.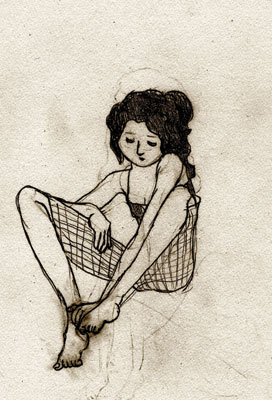 © Samantha W., Albany, NY