The Keepsake
May 10, 2011
"Fire!" It was 1940 during World War Two. Anya was a German nurse, and Timothée was a French soldier. They were on two very different sides of a war, so technically they could never fall in love. One day Anya was walking and someone yelled "Bonjour!" to her. She simply looked at him and said "I don't speak French, sorry." But then Anya looked again and realized she was in love. Then Timothée looked at Anya's big brown eyes, and realized he too, was in love. From that day on, Anya vowed to learn French so she could talk to Timothée.

It had been about two long months of cold war, and Anya and Timothée hadn't yet seen each other again. Anya was now almost fluent in French still practicing every free second she had, still hoping to see Timothée. Finally, they saw each other again, at a hospital where Timothée was taking a wounded soldier. They ran to each other's arms. Anya told him all about the days she spent waiting to see him, and how she learned French. Timothée told her how much she missed her, and how he dreamt of her everyday. Then he realized what he had to do; if Timothée didn't want to loose Anya again they had to get married. Out of the blue Timothée went on one knee and pulled out a locket. It was his grandmother's, she had given it to him right before he went to war. Anya said yes they both knew it was the right thing to do.

It had been another four months at war, though Timothée and Anya weren't seeing each other too often but they still kept a strong bond. Then Anya got word that Timothée had to go on a raid for two weeks so she said goodbye to him just incase they never saw each other again. Time began to pass one week, then two. The Friday they the troop was expected back there was no arrival. Then another week passed soon it was a month. Anya started getting very worried. She asked everyone, she even asked some of the French enemies, but no one knew. Finally there was a telegram sent saying all of the soldiers on the raid were killed except three men. Anya prayed one of the three was Timothée she knew it was a slim chance but she prayed for him every day.

Finally there was a hospital car came driving in the distance. Anya ran as fast as she could to the car. All of the praying had paid off. One of the three men was Timothée. She ran to his side. He was not in good shape, two bullets in the back. His blood was running out fast. She knew he didn't have long to live. She grabbed his hand and he said the only words he could, I love you. She said the same back to him. She let go of his hand, knowing he was gone.

Time had passed, and Anya moved back to Berlin. But then she never expected in a million years happened. Anya was pregnant. She didn't know what to do a former war nurse with no money, and widowed. But Anya was strong and she had a girl named Julie Timothée Becker. As soon as she was old enough Anya gave the locket to Julie, and they passed it along their family for years.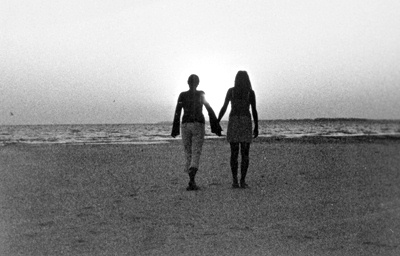 © Kim B., Marblehead, MA