Stupid Baby
May 4, 2011
Call it what you will, Cupid, love-bug, whatever your heart desires. All I know is that the stupid, little cherub of a baby paired me with the my worst enemy. Cupid thinks he can play jokes on me, well I got something up my sleeve. If he thinks he can mess with my mind and heart, well I'll mess with his arrows. Watch me as I do it with pleasure.

Just one sentence will help me throughout this game.

I will not fall for him. I will not fall for him.

If I repeat this to myself, I'll believe it. I'll hear the doorbell and open my door. I will not think about his lovely brown eyes that sparkle in the light, but rather the venom that drips from his mouth. I will push away thoughts about his tan skin that looks as if it tastes of cinnamon. Sugary cinnamon that makes everything sweeter. The same sugar that I want, that I crave, in my life right now. I will refrain myself from thinking this when I see him. I will make my synapse be about his dreadful eyes that cause my sorrow.

I will not fall for him. I will not fall for him or his hair which my hands want to tangle themselves into. Those little suckers will give away the wrong impression if I let them. My hands will betray me.

Listen Cupid, and listen well. I will not fall for your stupid little jokes and your traitor of an arrow. I will refrain myself from trying to taste his lips, which will be heavenly. I shall ignore the song that flows out of his mouth endlessly. His mouth alone can kill me if I give in to my desire. Is that what you want Cupid? The end of me? You'll murder me Cupid, that's what you'll do. I should just give in to get you fired, stupid Cupid. But I won't. I will not allow myself to fall into his strong, protective arms. I don't want him. I will not fall for him. I will never love him.

I open my door, and there he is. In his hands lies a single, stemmed red rose, my favorite. I looked at the rose and remembered my vow.

I will not fall for him.

I will stop Cupid's arrow. I willed myself to believe what is not true. I will not fall for him. I won't do it. My weak thoughts were interrupted when he spoke to me in a melodious tone. I willed myself to force the door on him. I couldn't. I really want him. I hate you Cupid.

Stupid Cupid made me fall for you.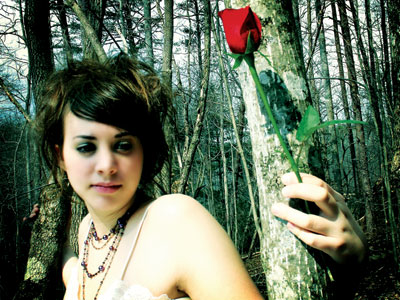 © Michelle B., Blairsville, GA