Memoirs of a Less-than Perfect Girl
May 3, 2011
I remember walking into my eighth grade classroom, keeping my eyes level with the floor, avoiding the stares that were accumulating with every step I took. As I was introduced to the class, your eyes met mine and I blushed a brilliant shade of scarlet. We became close friends as the year went on, but I soon began to understand. You were Mr. Perfect. You could never be mine. However, I stopped myself from thinking so. What did I know about love? I was only fourteen, after all.
Looking back, I realize I was wrong. Everybody knows Romeo and Juliet, right?
Juliet was thirteen when she fell in love with Romeo.


I remember looking at the new girl in interest. Ellie. Even then, the name felt good on my lips. I tried stop myself from becoming too involved. I was afraid…afraid of how you were becoming my whole world, afraid of rejection. Afraid of love.



Everyone says that dating in middle school is pointless. I wondered if things would change between us during the summer. But does it really make a difference? Do we really undergo a change in those sparse summer months, something that makes relationships easier? To my disappointment, nothing happened. I continued on, laughing at your jokes, playing my role as best girl friend.
I remember staring at you in class, blushing when you caught my eye. You flicking notes at me. The friendship that grew and grew and grew, as thought it would burst into a million fire crackers, illuminating the world with your light.


Sometimes I don't even understand why I waited so long. Ninth grade stretched on forever, but I never wanted it to end. Every day, you were there for me. Our dumb jokes, notes passed between us…it was the little things that made it so amazing. Once again, I was scared. Scared that you were too good for me. Trying to explain you to my friends was the hardest. Sure, she's hot, they'd say. But what's so special? Why is she so different? Everyone could see the sparks that we shared-it was no secret that there was something going on. But no one could figure out what. Even I had a hard time forming our relationship into a mold.



By our sophomore year, we were THE couple. After three years of anticipation, it was almost surprising when you finally asked me to be your girlfriend. However, you were still too special to be mine, too good. Too perfect. I could hardly believe it was real. I can recall every detail of that day, down to what you wore and the time. I remember the way you tucked my hair behind my ear-my heart almost stopped right then and there- and how you blushed to match the red roses you handed to me. Luke and Ellie, Luke and Ellie. Everyone teased us-but we would just smile and hold each other closer. I was doused in euphoria, drenched in love, overfilled with joy.. You were my everything.


I'll admit-why I waited three years to ask you out was a mystery even to me. But I was so in love, Ellie, so in love. I would do anything for you.


Memories floated through my head that summer day after senior year, as we took our daily midnight walk. We had only been together for two years, but it was a lifetime of love.
"Ellie." You turned to face me, your brown hair falling into your eyes. I reached to brush it away.
"Yes?" I smiled as you grabbed my hand.
"Aww, nothing." You said nonchalantly, playing one of our favorite "games", shrugging my hand off.
"Hmm….by nothing…do you mean 'I have an awesome girlfriend?'
"Nope."
"Darn. How bout 'I love you'?"
"Well, I do. But maybe nothing really means nothing!" You winked, pulling me closer.
"Hmm…I doubt that! Oh, and I suppose I love you too."
"You doubt correctly." Your voice suddenly turned serious and a swarm of butterflies gathered in my stomach. "Ellie…by nothing, I do mean I love you. I mean that you are my everything, that I can't live without you. That I want to be with you. That forever isn't quite extensive enough to say how long I'll love you for. "
"By saying nothing, I mean everything. I want to be yours forever." Time stood still as you kneeled to the ground.
"Ellie...will you marry me?"
Every memory, every word, every conversation that had crossed between us filled my mind. It was so perfect. We were meant to be.
I wish you hadn't been so perfect.


Ellie. To this day, I don't understand why you said no.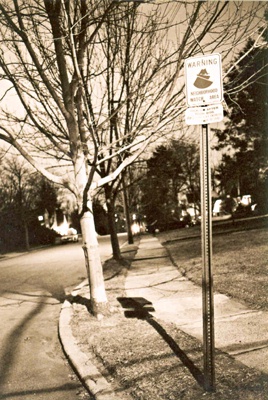 © Samantha G., W. Orange, NJ