Tattered Sky
May 7, 2011
They fell in love a long time ago. It was long before you, or your father, or his father, or his father even. She was older than him, just old enough to be out of his reach. He was a boy, she was practically a lady. That didn't stop him though.
One night, he found himself following her. She was beautiful, brighter than anything he'd ever seen, and just close enough to touch. She turned around and smiled at him, and he merely lit up. Though she rendered him speechless, she continued to go about her life. Did she know she put light into his life and gave him a reason to shine throughout the night.
No, she wasn't entirely oblivious of him. From the corner of her eye, she caught him once or twice. His cratered face didn't deter her nor entice her. She went about her daily routine, as did he. Someday, she said. Someday, in her mind she might give him a chance. Sure, the timing wasn't right. Not then. Someday, though. Someday.

Many days and many nights. He remained just as dedicated to her as he was from the start. But he could never quite get the timing right. He missed her every time. Always a little late. Story of his life, right? But he didn't give up.

She began to pay him more attention as time went on. They'd spend rare evenings together, just enjoying each other's company. These times were uncommon only because they never could time it right. She always came too early. He was always too late. Sometimes, he even got swallowed up in the darkness when she was unaccounted for, and hid his own face completely for a day or two.

Then, one day, something amazing happened. It was a glorious thing to those who saw. Something came in between them, something amazing. For just a few moments, someone else eclipsed his view. Instead of the erratic fiery headed girl, he saw a livelier, calm one. She smiled up at him, and he wondered how he could've ever loved another.

The sun came out again, and he was blinded. He didn't know what he wanted anymore. He just kept moving on, seemingly in circles. He was always rotating around the lively girl, running circles as he chased that first, fiery love. Chasing her was all he had ever known. A few other eclipses past, and his eyes found their way back to the livelier one every time. She shared the dark with him, each and every night. He shed some light onto her dim face and they talked for a little while.

The next, unconventional time that the blazing lady caught him, she was surprised to find that he had fallen in love with someone else. And she had fallen in love with him. It was a strange thing.

When the eager to please Moon fell in love with the levelheaded Earth, the hotheaded Sun lost herself.

The Sun began to chase the Moon, and every morning she found she was too early and yet, somehow too late. Every night, the Moon played with the Earth's waves and it was sickening. By day, the Sun soaked up the water into her heated rays in her vain attempts.

Even the people of the Earth, the same people whose food she grew and whose faces she warmed by day, refused to look at her. They couldn't. They simply couldn't gaze up at the sun's rays without being blinded. The Sun wondered how the Moon could ever have bothered to see past her perpetual fire. By night, the people looked up at the Moon and became infatuated with him the same way their planet had.

And everyday, the Sun gets up early and tries again. She tries to meet the Moon and give him the chance she denied him so many summers ago. With each changing phase, she tries to catch him. Sometimes they share the same sky when she is sitting on the horizon. They say nothing, just look at each other. She'll never give up. Not until her own light burns out. She only has several billion years left. The Earth goes on all the same, caught up in their orbital torment though too naïve to realize what she missed.

The Moon still borrows the Sun's light every night, but she's too engulfed to notice. And maybe he still loves her. Maybe it was never meant to be. Too early or too late. No one can tell now. Until then, it's unclear as to who's chasing who. The Moon? The Sun? They didn't even know. For now, the night only gets later.

And the Sun almost always comes too early.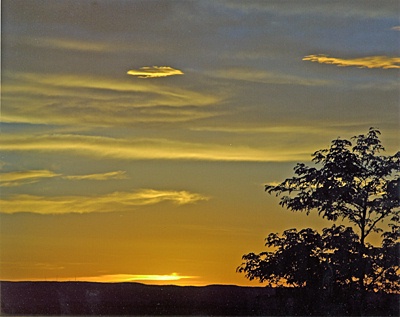 © Elizabeth B., Wichita Falls, TX