Carma
May 5, 2011
She thought she had the most wonderful life. Everything seemed just right. Abigail MaryAnn Fitz was twenty years old when she thought she had met the man of her dreams. After dating for a little over six months, Larry Jay Cruz and Abigail MaryAnn Fitz got married. They bought a cute little suburban house in the beautiful city of San Francisco.

Larry and Abigail were two happy hippies who were madly in love. Larry was a musician for a somewhat popular band at the time and had to travel frequently. Their marriage seemed to be going well. Everyday Larry would practice with his band and play at different local venues. Abigail spent the majority of her day painting. She was a brilliant artist and would sell her paintings at various sites in San Francisco.

As Larry's band became more and more popular, he had to travel more and more frequently. Abigail was not fond of Larry's traveling. As a newly married couple, she did not like having to be separated from her husband for days at a time. Abigail grew very insecure and started to worry about what Larry was doing when he was out with his band. Her insecurity led to problems with their marriage. Larry and Abigail would constantly bicker. This bickering led to fighting which sometimes became violent.

There were many nights in which Larry didn't even come home. He would show up the next morning with some lame excuse as to why he could not make it home. Abigail quickly became suspicious, but Larry would always manipulate her into believing him. This continued for months and months until one day when Abigail ran into town to buy some groceries. As she was walking into the farmer's market, she spotted her husband with her best friend. At that instant, she knew exactly what was going on. Late that night when Larry finally came home, he admitted to Abigail that he was cheating on her with her best friend.

Abigail was humiliated and immediately left to go move back in with her parents. She was severely depressed for days and days and thought it couldn't get any worse. Two weeks after their separation, Abigail found out she was pregnant. She didn't know what to do but to cry. She wished it wasn't Larry's baby but unfortunately it was.

While pregnant, Abigail met another man name John. Fortunately, he was the complete opposite of Larry. He was caring, helpful, and trustworthy. He stayed and supported Abigail throughout her entire pregnancy. Nine months later, Abigail gave birth to a beautiful baby boy. John and Abigail eventually got married and John adopted Abigail's son. In 1969, three years after Abigail and Larry's separation, Larry died of a drug over dose while performing with his band at Woodstock. Despite this traumatic event, John and Abigail lived a wonderful life with their amazing son.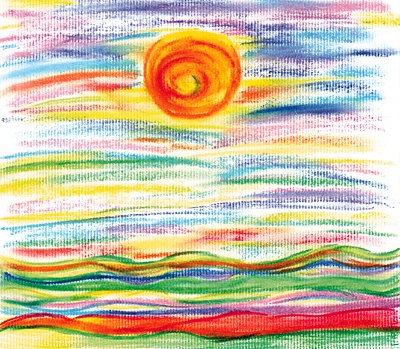 © Jennifer W., St. Albans, WV