Ring Me, Would You?
May 1, 2011
If I stood by Jake, it would look like he was kidnapping me. Well built and six feet two, Jake could easily carry me under his arm like a stuffed panda. And that fact never changed after seventh grade, not even after college.
It's not funny anymore when after all these years of non-growth my colleagues still call me cutie and boys on skateboards still whistle by like I was in high school. Being five foot and a half was not so much lovable as idealistically disappointing.
And last thing I would want is to be called…dinky.

Now that I talk about disappointment, landing between jobs and filling my time working at a coffee bar in a hospital was not so dreamlike either.

"You know you should go talk to him." Jennifer whispered, sitting at the nearest table to the counter while I poured her coffee. "Staring won't help." She raised her eyebrows.
"Glaring. And no, we still talk. Just not now." I defended myself, walking away from her table to avoid her frown. I sighed while my eyes still grabbed onto the sight of Jake's crisp green eyes from the farthest corner table.
"You know that's Maya who's sitting next to him." Jen whispered hesitantly.
"At least a white coat doesn't look like table cloth on her." I responded in an irritated fashion while pouring some water.
"So you're dinky." Jen chuckled while I almost choked on my drink.
"Exactly." I couldn't find a better word.
"What's with you and that doctor anyway?" She frowned and rolled her eyes.
I didn't want to answer her.
"What's not with him?" I finally mouthed after a moment of silence.
Jen didn't hear me and rambled on about her husband while my ears no longer deciphered her mumbling as words.
The bitter smell of hot coco beans floating aside the jazzy tunes of the early March morning made my feet feel light. And Jake's smiling eyes and laughs across the café only made me more light-headed.
He hasn't changed, not one bit. Still the wavy brown hair, still the black pants and leather shoes. Just like the last time I saw him before I left.
Yet he was a new person. And there was Maya next to him.
I leaned my elbow on the counter and pressed my cheek against my palm to contemplate the laughing couple. Oh, how he looks at her with those eyes. With those smiles.
Only if those were still my smiles.
"Ariana." Jen snapped me out of my reverie. "Have a good weekend."
I didn't have the time to react before she turned around and reached the door. I forcefully stretched my lips into a half smile.
My heart weighed too much for me to bear.
"I guess I will see you later too." I mumbled to myself when I saw Jake standing up. He followed Maya as she lifted her white coat that was lying on the side of the chair and prepared to leave. She grabbed his upper arm and mouthed something I couldn't hear, making Jake chuckle again.
They left.
He left.

He didn't even say hi.

Hi, stupid best friend since fifth grade.

On Monday before dawn I found myself sitting in my old red Toyota in a near-empty parking lot. The sun's rays haven't filtered the sky yet, though a black Prius was already in its designated spot. It was so quiet when I lowered the window.
Just me, the fading stars, the red blue sky.
And the Black Prius.

I didn't hear footsteps approaching when I was fighting to find the last cappuccino cap in the lower drawer. My back was hurting after bending for so long.
"Hi." A gentle voice whispered.
"I'll be there in a moment." I continued my energetic search.
"Hi." The satin-like voice repeated. I suddenly stopped searching and sat on the ground. A chill ran through my upper thigh and arms as I stood up and turned to face the voice. It was him.
It was Jake.
"Hey. You." I articulated and smiled forcefully.
"Hey you." He smiled back. For a moment I could not help but to lose myself in the complexity of his fine features. His eyes were tired and brown wavy hair messy. Dark circles surrounded the lower part of his eyes. But he still retained that mesmerizing charm. "How are you?" He almost whispered.
"I'm…I'm good." I shivered as a frightening chill ran down my back.
He smiled and didn't say anything. We stood in silence, as if we didn't know what to say, and as if we already said all we wanted to say.
"How's…how was your night?" I looked down to avoid eye contact. One look from his emerald-colored eyes would melt me down.
"Small inconvenience." He shrugged. He then turned his head aside, covered his mouth with his hand, and yawned.
"And…and…Maya?" I added with my cracking voice.
"Maya? She's fine, I guess. She's sleeping." He smiled warmly with his wearied eyes.
We stood again in silence. I didn't want to hear about Maya.
"I haven't seen you around much." I lied.
"I've seen you. Been here. Here and there."
It was as if we were total strangers again. Him stopping at the shop for coffee, and me, a simple cashier.
"She's nice. Very nice, Maya…And pretty." I didn't know what made me say that. Her name felt like a dagger to my heart, yet my mouth betrayed me to repeat it again.
"She is, yes. Quite beautiful." The sound of his last word made my entire body shiver, my heart ache. I didn't know what to do but to smile back.
"So how's life?" I added.
"Not much."
"Found the right one?" I wanted to strangle myself for asking those pathetic words. But before he could tell me anything, he was called back to the emergency department on the intercom.
"Later." He whispered and he ran away.
I didn't know if I was to laugh or cry.


Days went by and I got to see more and more of his emerald colored eyes and warm smiles. It was like the old days when we used to be in high school and college again. And each time I saw him, Maya was there too.
She was there, holding his arm, looking at him with those blue eyes filled with ignorant innocence.
And I was there, behind the counter, counting the sugars needed for the trays, while my eyes gazed, red with envy and regret.


When I closed the lights and prepared to lock the shop's doors one windy May night, a person stepped in. And from the dim shadow, I could tell it was no other person than Jake.
"Ariana. Why now? Why now after all these years?" He raised his voice in the dark.
I stepped out from the back of the kitchen. "Why what now?" I asked with a confused tone, knowing perfectly what he was asking.
"Why did you have to find a job here, in this place, in this hospital?" He almost shouted, panting.
"I don't know, they had an opening."
"But why now? Why me? Why do you have to do this to me?"
"I don't determine where jobs are offered." He advanced toward me and we stood face to face in silence. In the midst of our argument, my fist was raised and he was grabbing my wrist.
"Let go." I said. He didn't move. "Let go." I almost screamed and forced my arm out of his palm. I turned my back on him.
"To answer your question, yes. Yes. I already found that person." He added with a breaking voice.
I didn't want to look at him. I didn't want to look back.
"It's Maya, isn't it?" I whispered.
But he was already gone.
"You deserve her. You deserve someone better than me."

One week.
Two weeks.
Three weeks.
No sight of him.
No word of him.
And yes, it was true. I quit my job in California to find him here, in this Quaker town that rained every other day. I missed him. I missed my old days with him where we used to run barefoot in the rain and sleep in the woods.
I missed goofing around with him by ringing old people's doorbells.
I missed his laughter.
I missed his smiles.
I missed his jokes, his face, his hand, his smell.


But now I quit my coffee-bar job.
I stopped renting that ugly red Toyota.
I'm going back.

I carefully crossed the parking, making sure I didn't slip on my stubby heels. The Prius was still there. Right there where I first saw it with a skipping heart, right there when I sat in the parking lot waiting for him to go to his car, right now when I'm leaving.
My nose felt sore and I blinked several times to stop myself from crying. But a warm tear rolled down my cheek, following by another, then another. I moved away my umbrella from over my head to let the rain soak my hair and cool down my burning face.
I was a fool. I lost him for good.
I strolled around the streets, walking through grass and rocky sidewalks, kicking the grass. I had nowhere to go.
I ended by stopping in on the bow of a bridge, looking down at the crystalline droplets hit the creek. What if it is deep enough that I jump in there and cool myself down? Maybe I'll see a fish or two.
I rested my elbow on the side of the bridge, leaning my chin on my hand. I then looked down and noticed the engraved heart enclosing letter that I was leaning on and slowly traced it with my fingertips. I remember this place.
I remember the engraved heart. Jake carved it with his car keys.
I closed my eyes.
Jake was right. The rain did feel nice.
The air was fresh like clean cut grass. I will miss this old town. I will miss the old days when we swam down there when we were young.

When I opened my eyes, Jake was standing at a distance right in front of me.
"Ariana."
"Jake."
"Where were you all these years? Give me your answer."
"Jake, I can't explain. I don't know." Tears rolled down my cheeks. "I miss you Jake, I miss you."
"Why did you have to do this to me?" I heard his voice crack.
"I miss you terribly."
"Don't lie to me. Not now."
"I can't redeem what I've done." I wiped off the tears on my cheeks with my sleeve. "I'm sorry…It's just, it's just…I was young, I was foolish..." I started babbling nonsense. "You were always my best friend, my brother, and I wanted to experience life, I wanted to see the world. I didn't want to be stuck I in this small town…And…and now I realize how much I've lost when I left."I could barely finish. "…when I lost you…I came back to find you."
"So that you could fall into your safety net with me?"
"No Jake." I protested. "I never realized how much I had. I can't explain. I don't deserve you anymore. Maya does. She will treat your right."
He didn't say anything.
"I guess this is goodbye." I turned around.
"Wait." He shouted after a while. I didn't turn to face him. "You played with my heart for thirteen years."
I had no apology for him.
"And you came back to this same bridge, the one where I first told you that I loved you." He continued.
I turned back to looked into his eyes.
"Where you first kissed me."
"And I've waited you here even since."
The rain was pouring on him and water splashed as cars drove by under the gloomy red grey sunset. From afar, he lowered to one knee and pulled out an old velvet covered box.
"Ariana. Ring me, would you?" He said in his satin-like voice with a heartwarming smile.

The wind took my umbrella as I let it go floating over the bridge and landing in the creek. I ran toward Jake to lock his soft lips with mine, while his hand was still holding that same old ring from three years ago.
"Ring me a million times." I whispered.
And all the while tiny crystalline drops fell on a pink umbrella, drifting down with the creek with the wind.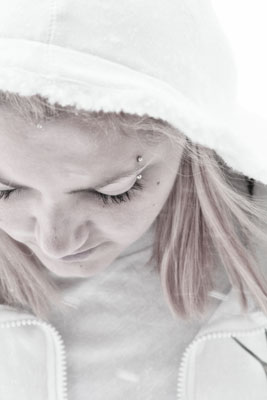 © Jessica F., Bradford, MA