No bodys baby:Melissa(chp3)
April 18, 2011
The next morning, as I stood in the kitchen preparing a cup of coffee for myself, Michael stumbled in. Moments later, I felt a hard slap on my behind. "Good morning," he said. I nodded, still feeling embarrassed about the night before. His head was in the fridge as he asked me "What's for breakfast, baby?" I looked at him and said "I'm running late."



At the time, I worked for a small law firm in the city as an office assistant. My clothes were pressed and my hair was done. All that was left was my daily dose of caffeine and my three inch stilettos.



He stormed out of the kitchen and stomped into the bathroom. The door slammed and I heard the shower water run. I did not have the time to ask him about his feelings of the matter. Besides, it was a weekday. I never made breakfast during my work week.



I sat at the table to drink my coffee as I skimmed through the morning paper. I waited for Michael to get out of the shower and get dressed, so that he can drive me to the office. I sat there patiently for about ten minutes, when I heard the water stop. I put the paper down and bent down to put on my shoes. A few minutes later, I heard him in the room; slamming drawers and the closet door.



Finally he came out. "Let's go," he said, already at the door. I stood up and followed him out of the house. We got into the car and I strapped myself into my seat. He turned on the radio and blasted the music to the maximum. 'Highly unnecessary,' I thought as I lowered the volume. Seconds later, he raised it again. "Really?" I exclaimed. I leaned forward to lower it again, when he slapped my hand. "This is my car!" I stood still for the rest of the ride.



He dropped me off and before I fully stepped onto the sidewalk, he sped off into the morning fog. 'All of this because of breakfast?' I thought. I shook my head and walked into the office.



The day was regular; phone calls, e-mails and paper jams. Nothing out of the ordinary. On my lunch break I turned my phone on. There was a text message from Michael. "CALL ME ASAP." I checked to see the time that he had sent it; about an hour after he dropped me off. Of course, I called him right away.



The first time I called, it rang about three times and then it went to voicemail. 'Odd,' I thought. I waited a few minutes, and tried again. This time, it went straight to voicemail so I left message. "Hey babe, I got your text. Must not have been that important because you ain't pick up your phone." I paused and took let out a deep breath. "Anyway, I'll see you later. Love you, bye." I hung up and turned my phone back off. I placed it in my bag, grabbed my wallet and went across the street to buy a hot dog and a drink.



Waiting on line, I noticed a co-worker was a few dollars short from getting his meal of choice. "I'll be right back," he said to the lady at the register. He headed towards the door and I tapped his shoulder. "Dave, how much do you need?" I asked him sweetly.



His name is David York. His eyes made him look exotic while his voice proved he was just a regular southern gentleman. He was the type of man to open doors for ladies and put his credit card down at the end of a pleasant outing. He smelled of sweet colgane. The type your grandfather might wear, and yet somehow he didn't come off as an 'old man.' It was weird. Only Dave can pull it off.



"No, it's okay Mel," he responded, a bit embarrassed of my offer. "Really," I said. "It's okay by me. You can pay me back by buying me lunch one day." We smiled at each other, his hand still on the door. He looked at the cahier and then back at me. "Sure, okay. If you insist." He followed me back to the line.



I paid for our lunches and we sat down at one of the tables in the small fast food like restaurant. We spoke of clients only at first, and then somehow our conversation turned into more of a personal one. He spoke highly of his girlfriend of four years, Giena, and of darling eighteen month baby girl, Cheyanne. His eyes lit up as he told me of the milestones she had hit. I couldn't help but to gleam along with him as I saw how happy his family made him and how complete they made him feel as I man. I wondered if that was how Michael felt when he spoke of me.



I spoke of Michael briefly; mostly of our engagement and of us moving in together. Although it hadn't happened in that order, I felt the need to make it seem as though it did. I wasn't sure why. I'm sure I would have talked more of my relationship, but I couldn't find how to compare to Dave's love with his Giena. Until speaking with him that day, I hadn't ever questioned my relationship with Michael. It was so odd to me.



Our lunch hour was over now and we were back in the office. I sat at my desk, staring at the time; counting down until it was time to clock out. Five o'clock came slowly. I turned my computer off and organized my desk to be prepared for the next day. I grabbed my purse and headed towards the door. It was raining and Dave was standing right outside under his umbrella. "Great," I said in a deep discouraged sigh. "I was not expecting this."



"It's dry under here," Dave said kindly. I smiled and took a few steps to get close to him. "I'm just waiting for Michael," I told him. "He's usually here by now." I looked down the road in both directions. "Maybe the rain slowed him down," Dave suggested. "Maybe," I agreed. "Are you waiting for someone?" "No," he pointed to the blue car across the street. "I saw that you weren't prepared." We both laughed. We stood there for about fifteen minutes or so before I decided to call Michael and see what was taking him so long.



"Hello," Michael said from the other line. "Hey, babe where are you?" I asked, more concerned then upset. "Home," he said. "Baby, it's hitting 5:30." "I know." I stood quiet for a moment. "Okay." My blood rushed to my face. "We will talk when I get home." "Fine," he said and he hung up. I stared at my phone for a few long seconds. "Is everything okay?" David asked me. "Ready to return the favor?" I asked with a broken smile.



David drove me home, with no questions asked. When we arrived at my house, all he said was "Here take this," with a kind non-judgemental smile. He handed me his umbrella and refused to let me return it to him. I really liked Dave. He would have been a good friend to have.



I opened the car door and placed the open umbrella over my head. "Thank you so much," I said and I closed his door. His car remained in the driveway until I stepped onto the porch and let out a wave as if to say, 'I'm safe now.' He waved, much like Mary-Ann had done the night before. I smiled and searched for my keys inside of my purse.



I rushed inside of the warm home. My feet were soaked and freezing to the touch. I kicked of my shoes and placed the wet umbrella by the door. I could hear the television and can see the shadows of the show from the corner of my eye, but I did not turn to see what was on. I wasn't even sure where Michael was or if he was sitting in his chair. I didn't really care to be quite honest. I walked straight into the bedroom to find some clothes that I could change into after a long and hot shower.



As I reached into my drawer, I can see him by the frame of the door; leaning on the wall and staring at me. I did not look up at him. I was furious with him. I had nothing at all to say to him. I grabbed my clothes, and tried to make my way to the bathroom. Michael stood straight now, and made his place in my way.



I looked him in the eyes and said "Excuse me." My feet planted firmly on the ground. My arms were crossed with my clothes tucked between them and my chest. I almost cried right then out of anger. He smirked. "You have some f***ing nerve!" I said. He did not move; neither did I. We just stood still and stared at each other.



"How did you get home?" He finally asked me. "What? Was I supposed to walk?" "Answer the f***ing question!" "F*** you, Michael!" I tried to push him out of my way. He shoved me back to place. "Answer me!" I continued to try to make my way out of the room, with no luck. "Stop it," I yelled. "I've had a long day and your a** left me stranded at work. Get out of my way!" "Stranded?" He let out an evil laugh. "Your a** is here right? Who brought you?" "What the h*ll do you care?!" I pushed him again and again was shoved back. "F*** Michael, move!" "You're just a little f***ing sl*t ain't you?" I began to cry.



"Aww, did I hurt your feelings?" He asked sarcastically. "You're such a jerk sometimes," I mumbled through my tears. He laughed and when he did I realized that he was not in a sober state at all. I remained quiet. I gave him a moment to catch his breath not understanding what could have possibly been so hilarious to him. "Can you please just move?" The words were pushed out of me like something I had never felt before.



He took a step to his left, and when he did I began to walk forward. Slowly and with my head down, I made my way past him. Steps away from the bathroom, he grabbed me. "You're hurting me." I let out a moan of pain. He squeezed my arm as if to let out juice. "Please Michael, stop!" He threw me against the wall. Tears rolled down my cheeks but he didn't seem to care.



He held me there for what felt like hours just staring at me. My body was shivering in fear. I did not look him in the face. I kept my eyes close as I begged him to stop. "I'm sorry. I'm sorry. I'm sorry." I kept repeating. "Please baby. I'm sorry." He let down his hands. My body stood completely still. "F***, Mel," he said in a disappointed tone of voice. "F***!" He walked towards to living room closet, grabbed his coat and umbrella and walked out. The door slammed behind him and I dropped down to the floor. With my knees up to my face, I sat there and cried for hours.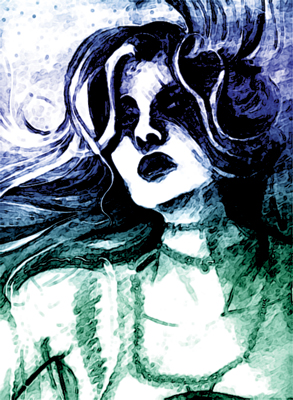 © Sindi J., Westminster, MD