Color Me.
April 16, 2011
It was morning. The sky was cool and gray, bleak with rain. That was all that it ever was for him. Black, gray, and white. Neutrals and dark blues. Rain fell, crystal clear, falling, falling, falling, droplets making sounds on the ground. He was wearing what he always wore. With his navy sweatshirt covering his black shirt, the hood was up, hiding his blank face from the world. He had preferred the dark, the black, the dismal. With him, he wanted nothing, nothing but the necessities he needed. All other things were unpractical.
But with her, she was a different story. She came down the street with her bright colors, lighting up the distance between them. She was a neon blur; a bright, bright mess of colors from head to toe. She danced her way to him, with her lime green umbrella in her small hand. The fabric caught droplets of rain as it cascaded down towards the tips. Her lemon colored hood fell off her head as she tipped it back, laughing as she walked. The hood revealed a dark mass of ebony hair, colored in various spots with blues and purples. It bounced against her lemon pea coat. The coat was bright and illuminated; obviously not belonging to the atmosphere around her as well as her additional apparel. It was so colorful, too colorful and out of place. He stared at the bright mess flying towards him. It was something he didn't believe in, something he shouldn't have liked.
Yet, he did. Somewhere in the back of his mind, a voice whispered beautiful. Her rainbow scarf waved against her white ripped shorts- completely outrageously not matching with her outfit. She let out a soft laugh as the wind breezed through her hair, shoe laces soaked, clinging to her cherry red converse. She was impractical; wearing shorts and a scarf together in the rain. He let out a breath, as his jet black hair fell towards his eyes. Lowering her gaze, her eyes lightened and she broke into a breath-taking smile for him. She was smiling for him. Reaching towards him, she took his large hand, tucking it into her own small ones; as she greeted him. She was blinding, a beautiful clashing mess. He tried to smile a little, just lift the corner of his lips for her. He owed her that much. Slowly, his lips curved up as he searched her clear violet eyes. They reminded him of his mother's garden; violets colored light blue, almost close to purple. But hers was different; they are iridescent. Everything about her was like a rainbow, a never ending rainbow. As he looked into her eyes, he saw his cool black ones reflected in hers. How was he matched to her, how did she become his? Even though they were extremely different; they fit like a perfect puzzle. She tugged at his hand; catching his attention again. Looking down, he glanced at his palm. Sitting there was a red bracelet, her small palm falling away from his. This bracelet, made from woven threads sat small in his vast palm. It was red, bright red, cherry red like her shoes. He closed his hand around it, grasping it tightly. It was colored, colored like her. He shifted his gaze towards her face. She smiled softly.
"You need color in your life," She murmured. He nodded to her reply. In his mind he disagreed. He had color in his life; he had her. Rushing water could be heard, disturbing the pattern of the rain. Breaking his gaze, he saw that the bus had come. It stopped in front of the, opening, signaling their time to leave. She took her hands away from his and wound up her umbrella, putting it into her matching lime case. Taking her free hand in his other one, they boarded the bus. She was a colorful clash and totally out of order. But none the less, she was a beautiful mess that had fallen into his orderly life.
& it was alright, he thought, to have some color in his life.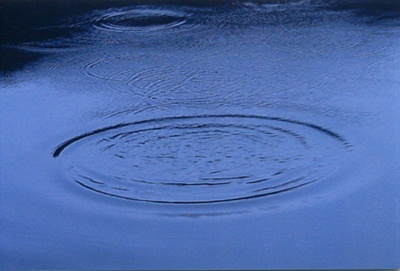 © Alyssa J., Gibsonia, PA