Slapped Because Of Rejection
April 5, 2011
The screaming and yelling of teens surrounds me as I run through a crowd of them, trying to tag the person with the flap. Everyone's cheering me on as I swiftly steel the huge red flag from the guy, and speed back to base. Almost there! Just a few more steps! You can do it, Emily!

"YEAH!" cries my team as I safely return to base with my flag. The blue team is winning with the help of Emily Smith, their star player.

You could call me athletic. You could call me sporty. But really, I think I'm not either of them. Sure, I'm fast, but without my teammates I'd never win. I'm not the fastest person. I'm not the strongest person. You could say I'm quite even on everything. Not too special in any area, I guess. Although, one thing's for sure: I dominate the Capture the Flag grounds.

People give me high fives and cheer me on. Was I ever popular before this game was introduced to the gym class? Definitely not. I was the average girl, but now look at me getting attention from everyone that I thought ignored me! I bet you that the whole school knows about my reign now! Some sports coaches have been asking for me, too. Although their requests seem quite inviting, I'm deciding that I'm still not going to choose any sports. It's just not me, you know? You can't do things that you don't want to commit to.

Our team huddles up into a circle. A guy with broad shoulders and brown hair directs everyone to what they're supposed to do. He's assigning me to offense now. I'm the girl who's going to steal the flag from the red base this time. Everyone agrees in assent to protect me from the defense, and we depart from each other to fulfill our purpose.

The whistle blows.

I can feel the adrenaline flowing through my body as I race past the boys and girls coming towards me. I'm flexible and skinny. It's kind of easy to ease through the students. The hard part, though, is going through the defense.

Here's the one thing I hate about defenders on the Red team: they have huge guys the size of boulders. No one can usually get out alive. I'd say, if I went one-on-one with all of them, I'd be shattered into a billion pieces. At least it's worth the try though. It's the last round. The last chance to win. The last chance to have some fun in this school.

Brian jumps into view as I draw nearer and nearer to the base. I take a sidestep to the left hoping that he won't be able to catch me. However, he's just as fast as me and as I go right and left I can't seem to get past him. Gr. He's a tough guy alright. REALLY tough.

A boy on my team decides to grab the flag and run towards base. Instinctively, I run back to base with him to make sure the flag comes back without any flaws. Yet, behind us were a horde of girls and boys zooming towards us, ready to voraciously gobble us up like beasts. Soon, the boy's surrounded. No where to hide. No where to go.

That's when it flies to me. I snatch it as it comes at me and race towards the base. People are shouting my name. "Go, Emily!" they call. "Go!"

My eyes are set on the huge circle beside the tree. Gotta get to base. You've just gotta get to base! But then something catches my eye. Something that takes all focus away from me.

A boy with dark hair is sitting alone in a patch of grass. The sun is glaring at his hair, causing it to sparkle just like the sunlight. His head is resting on his knees with his arms wrapped around his legs. Is he upset or something? I should check it out later.

Suddenly, I get bashed by a stampede of students.

I can't feel any pain as I fall onto the soft grass. Apologies fly at me and the whistle is blown. I guess the blue team wins either way with a terrible last round. Oh well. The teachers are shouting at us to get inside the school to the locker room. We need to change before it's next period. However, my feet take me in a different direction. I knew I'd inevitably walk up to him.

"Hey," I say. "You okay?"

The guy looks up. I hoped that it wasn't him, but it was. It was Joe. He's the guy who lives next door to me. My best friend. My brother. I wonder why he's all down in the dumps . . .

He doesn't reply.

"Joe, you know I'm talking to you. I'm the only person around here. Come on. Get up."

"I don't want to," he mumbles.

"Come on," I repeat as I pull at his arm. "Tell me what's wrong. We've been friends for like forever."

He stands up. "I don't know if I should tell you-"

"Tell me!" I interrupt. "I'll be worried all day if you don't tell me!! Please! I want to help you, Joe! You're like my bro! My buddy! My-"

Joe puts his hand over my mouth. "Okay, okay. You know Angela?"

Angela. She's the girl that he's crushing on. Right. "Yeah? What about her?"

Joe rubs his neck. "I kind of just got rejected by her."

"Really?" I said stunned. "She didn't hurt you that bad, did she? She didn't yell at you or anything?"

He gulped. "She slapped me . . ."

"Awwwww," I reply sympathetically. "It's okay, Joe. Sometimes there's some girls that aren't worth fighting for."

Joe looks down at the green grass. "I really thought she was a nice person. I guess I was wrong . . ."

"It's okay. Just hope that she doesn't spread to the world that you confessed to her. If she does though, I'll be right here beside you, Joe. No gossip can pull us apart." I hug him. It's quite normal for me to embrace him. I mean, I've known him almost all my life. There's nothing really awkward about it to me. He pats my back as I hold him tightly against me.

"Yo! Get inside!" The teachers are getting impatient.

We jerk our heads at them, and then we exchange looks. "I guess it's time to go," Joe says. "Come on. Let's go, Emily."

I nod my head. We both walk towards the school, side by side. Out of nowhere, Joe purposely bumps into me and I purposely give him the same consequence. He laughs and then, surprisingly, wraps his arm around me. I can feel the warmth of his body seep into mine. Maybe he's more than my "brother."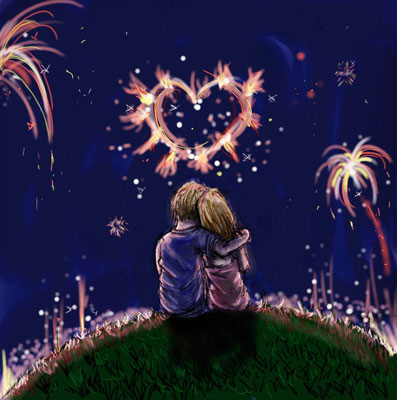 © Carissa G., Aberdeen, WA