Wish You Were Here
March 29, 2011
She was playing with her food. I kept staring at my plate. We didn't say a thing. "So, um, what's your favorite type of music?" I asked Rosa, trying to break this uncomfortable silence. She got up and said, "Look, this isn't working out. You're nice, but…'sigh' you're boring." She walked out. People from other tables were staring at me, as though someone had died. A man, from the table across, walked towards me, put his hand on my shoulder and said, "It'll be alright man." I grinned and told him, "Thank you." Then the waiter came and left the check. I took both mints, stuffed them in my mouth, and flip the check over. My eyes widen, "Jesus Christ."

I pulled out my cell to check the time. It was seven. "The night still young. 'Sigh' what to do?" I thought, "Maybe I could sneak a bottle of wine into my room and watch a cheesy film. Yeah, that sounds heavenly." I took out the car keys from my pocket and turned on the car. I backed out and left the restaurant. When I reach the first street light, my cell began to vibrate. I grabbed it from the dashboard and answered it. "Hello… Hey Monica, what is it...sure, I can pick you up…oh…yeah, I'll take her too." I closed the cell and put it back. "Jeez, is the light still red?" I thought.

It began to rain. My finger flipped the switch next to the steering wheel and the wipers began to do their work. My mother once told me that rain was God's way of cleaning the earth of sorrows and sins to start anew again. It's probably true. "I'm getting near," I told myself. I started to look around for two girls. Then I noticed two people waving. "That's them," I said. I slowed the car down and pulled aside the curb and stopped. Monica and her friend quickly got in. "My God, it's freezing out there!" Monica screamed, shivering. "I'll bet," I said. My foot slowly pushed the gas pedal. "So where do you live Melody?" I asked. "Uh, by Jones and Tropical," she replied. "Ugh, this is going to be a long ride," I thought. It got quiet. "So Jesus, how was your date?" Monica asked. I didn't say anything. "Well?" she said. "It was a mess," I said toneless. It got quiet again. "What happened?" Melody asked me. "She, um, she walked out on me," I answered. Again, silence except for the rain and the wipers. "How was your soccer game?" I said, trying to change the mood. Both Monica and Melody began to laugh. "You should've been there; we killed that team 10-2!" Monica exclaimed.

Melody said goodbye to both of us, got out of the car, and went to her house. I looked at the clock on the dashboard. It read 8:47. "So Jesus, want to hang out with me for a while?" Monica asked. I thought about it. "Uh…sure," I said and we drove off to her house. "Man, is it still raining," I said. Monica smiled, "You complain a lot don't you." I grumbled, "Yeah." I stopped the car at a red light. "Why did you go out with her?" Monica asked. The light turned green. "It was a blind date," I explained, while pushing the gas, "Rachel said that I needed a girlfriend and so she set me up with Rosa." Monica giggled. "What is it?" I said. "Nothing," she said, still giggling. "Whatever." She kissed me on the cheek. It got quiet. "'Sigh', Monica I'm really sorry what happened on New Year's," I said. She let out a light chuckle, "Don't worry so much it's bad for your health and I forgive you."

I parked the car by her house. We both got out and walked towards her house. "Is your dad okay with me being here?" I asked her as we walked. The last time I came here without his permission he nearly ran me over the next day. He said he was just joking. Probably true. "Umm, just, uh, hide in the backyard and I'll meet you in a few minutes, okay," she explained. I nodded and went to the backyard fence. "This is so stupid," I thought as I climbed over the fence. Once in the backyard I saw two brightly lit windows. "Great," I said under my breath, "well, better start crawling." I got down and crawled on the wet grass. Once past the windows I just sat and waited. I was dripping wet. My phone began to vibrate. I yanked it out my soaked pocket and answered it. "Hey Jesus, um, I know you're going to be angry, but my dad isn't here," Monica told me. I let out a sigh, "Its okay." "Alright then so grab a lawn chair I'm about to be out," she said. I shut the phone, got up, and sat on the first lawn chair I saw.
I heard a door open. My head turned around and saw Monica. She changed from her soccer uniform to her pajamas. She slowly walked down and sat on the lawn chair next to me. "Hey, it stopped raining," Monica said. She was right. The sky was also clearing up. "This is why I like your place," I told her," 'cause you can see the stars so clearly." "Yep," she said. We just looked up. She laid her head on my shoulder and let out a deep breath. We didn't say a word. "It's cold, huh" she said. I put my arm around her. She shuddered for a moment. The night sky was finally clear. I looked at her face. She was already looking at me. I couldn't stop looking at her eyes. Then I looked at her lips. Our lips came together. My eyes did not close. My phone then began to vibrate. We let go. I pulled it out. It was mom. "Who is it?" Monica asked. I showed her the phone. "Oh," she said. I answered it, "Hey mom…okay…I know….in the car…be there in ten…okay…love you too." "I got to go," I told Monica. "Oh, okay then," she said looking at the ground. We both got up. We were staring at each other. I grabbed her and tried to kiss her, but I bumped into her nose. It got quiet. We then began to laugh. "Its okay," Monica said, trying to make me feel better. "Well, we can practice tomorrow," I said.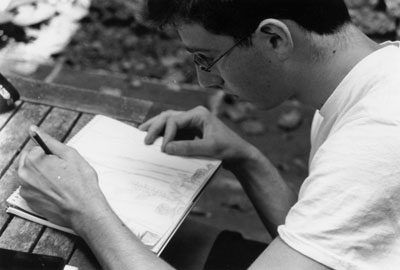 © Kira L., Bethesda, MD