Sleeeping with his clothes
March 12, 2011
"Grandma," The small boy meekly asked. "Why is Grandpa's army uniform out?" She just laid the suit out on the bed, right before they were about to sleep. The little old lady looked back at the green suit and grazed her hand on it. Her light blue eyes sparkled.
"Because sweetie, it's a way for Grandpa to come and sleep too," she whispered in a small voice. Her grandson, satisfied with the answer left the bedroom, leaving her to settle in for the night.

As soon as her white hair touched the old pillow, she closed her eyes. In an instant, she opened them to see the green uniform right beside her, but with the strapping young man she loved all her life inside the fibers. His black hair was greased back and his brown eyes were looking longingly into hers.

"You know, I'm going to miss you when I go back over there," his loving voice whispered

"Why don't you stay here? I'll miss you dearly," She pleaded.

"I have an idea. I'll leave one of my uniforms here. That way, when you go to sleep, I'll be able to come and sleep too."

Her dream lapsed and she was now in a new time frame to when they were in the hospital. She's about to leave him there to rest. Right before he drifts into eternal sleep, he grabs her hands. His heart was weak with illness and he was about to go into the night.

"Remember what you did when I couldn't come home, love? You laid my uniform on my side of the bed so I could always sleep with you?" He asked her gently. His speech was slow and heavy.

"It's the only way I can sleep now." She replied as she edged closer and closer to him, wanting him to always remember her in these lights.

"Promise me you always will. I want to sleep with you, my love. I need to be there to see you sleep." She wiped the small tears that were coming down his cheek. Her clothes were already laid on the other chair beside his bed. She leaned into his ear, and began kissing him gently.


She whispered in his ear, still clutching both of his hands for dear life, "I always will. I always will want you there. One day, my dream of you will become a gateway for my turn to come up to heaven with you." That morning, Grandma didn't wake up. They found her holding the cuffs of the sleeves of his uniform with her head right beside the shoulder of the sleeve, as if she fell asleep on him, holding hands, peaceful, content.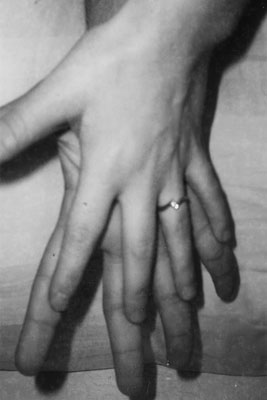 © Heather H., Phoenix, AZ