I Remember
March 10, 2011
"Ashlyn,
Today would have been our one year anniversary of friendship. I know you wouldn't have remembered. But I do. I remember the very day we became friends. Daniel Harlem was harassing me by the Hillcrest pond. He kept putting his hand on my thigh and trying to kiss my neck even though I kept pushing him away. And then he pushed me to the ground. It was like you appeared out of nowhere. I remember the fire you had in your eyes when you clenched your fist and broke his nose. I remember the sweetness in your voice when you lifted me off the ground and told me everything was going to be alright. You drove me home that night. And you gave me your number. You told me I was beautiful and that guys like Daniel Harlem didn't deserve to be near anyone as beautiful as me. And that you didn't even think you deserved to be near someone as beautiful as me. I remember being confused. But I called you that night anyway. Because you told me to. And I wanted to be your friend.
After that day, we spent almost everyday together. You took me to parties even though I was only a freshman and you were a junior. I remember you surprised me on my birthday with tickets to see Radiohead, because that was our favorite band. That was the night you held my hand for the first time. I remember feeling awkward and getting looked at strangely. But you stared at the stage with your head held high and swayed back and forth with my hand in yours and a big smile on your face. I didn't feel awkward anymore. And I smiled and swayed too.
Five nights later, you kissed me for the first time by the Hillcrest pond. In the same exact spot that Daniel Harlem had pushed me down. I remember you pushed me down too. But it wasn't like how Daniel did it. You kissed me slowly and gently pushed me down into the cold grass and you laid on top of me and just kept kissing me. And I remember the feeling in my stomach that I had never felt before. You rolled over and handed me a dandelion. And we looked at the stars. And I remember feeling that I was happy.
I remember the sincerity in your eyes when you told me I was beautiful. I remember the feeling of you running your fingers through my long hair. I remember staring into your eyes, and that they were always a different shade of green each time. And I remember telling you I loved you. And you said you loved me too. And I wasn't confused. And I'm still not confused. Because you're my inspiration.

Love always,
Elaina Glass"
I reached down and picked a dandelion from the grass. I stared at it for a second before setting it down, along with my piece of paper, onto her gravestone. "Happy anniversary, Ashlyn Trinity Joel. I love you." I looked up at the stars and smiled. Because I remember her doing the exact same thing the night by the pond.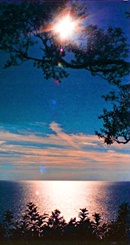 © Crystal B., Gresham, WI