Surrounded By Trees
March 4, 2011
As I walked into the forest, I absorbed everything.
I felt the sun's rays radiate against my barely tan skin through the small patches of the trees' leaves. The trail to the clearing, my sanctuary, was a mile away, a thirty minute walk for me. Fabian always made fun of my pace. I loved the forest at the end of May. Junior year ended almost a week ago, and every day since, I had come here to meet my boyfriend. He lived on the other side of the forest, a weird coincidence, so we sometimes came here to get away from everything. The only downside of this was that I had to tell my paranoid mother that I was working on my poetry on the outskirts of the woods. She didn't like that I went in the woods in the first place, but after weeks of begging, she finally stopped nagging.
I was getting closer to him. I could feel it from going down this path so many times. We didn't have to come here, we chose to. This was our favorite place besides the beach. But since we lived almost three hours away from Rutland Point, our clearing worked fine. As I followed the path, I thought about this summer. The only thing that worried me was that I wouldn't have enough to do. My mom worked over the summer so she was never home anyway.
My thoughts were interrupted when I saw him. He was laying face up in the grass of the fourteen by fourteen foot clearing. The heat of the sun was obvious on his tan skin. I quietly tiptoed over to where he was laying, looking very similar to an angel. My angel. His eyes were closed. I leaned over, careful not to block out the sun, and kissed his cheek. He acknowledged my presence by kissing me back and motioned beside himself. I happily took the offer.
I took my light jacket off and laid in the slightly moist grass next to him. I turned towards him and he pulled me closer to his bare chest, it was almost seventy degrees outside but felt eighty in the sun, and gently stroked my long, golden-brown hair that was splayed loose around me. I closed my eyes and, minutes later, started to doze off. I slowly regained consciousness and realized that we were in the same exact position.
"How…" I was still half-asleep, "how long have I been asleep?"
He didn't answer for a moment, so I opened my eyes and was slightly startled that he was looking right in them. "About twenty minutes."
I sighed.
"What?" He seemed puzzled.
"Twenty minutes less with you," I hated that those precious minutes were lost.
He chuckled. Now I was the puzzled one, "What's so funny?"
"You've been laying on me the whole time," he replied, as if the fact was completely obvious.
I hesitated for a moment. "Well, yeah, but…" I slowly rolled over from my back to my stomach and kissed him. "I can't do that when I'm asleep, now can I?" I laughed.
He laughed and returned the favor. I returned to my previous position, half-way between my back and right side, and just laid there, thinking. I thought about how lucky I was, lucky for the most perfect seventeen year old boy on the planet, for this asylum that was just ours, for the blanket of trees that shielded us from all outside forces and nuisances, and for love. Without it, I was nothing. A tiny retrospect of the universe. Only that. Fabian changed how I saw myself. But that was not much of a difference because that just meant that I was his tiny retrospect of the universe.
***
Sunset seeped into the grass, changing its dull green to a rusty-olive. It made his eyes look an even deeper jade, electric and sincere, as they were locked on mine. I melted into his arms, holding me tight to his warm chest. His half-smile plus intense stare made it hard to breathe without effort. I just wanted to lay here forever, in my love's tender hold.
"Penny for your thoughts," I dared to break the hour-long silence. I just had to know.
"I'm wondering something." He sat up and pulled me into his lap.
How I could be this curious? "About what?"
"I don't know if this is good or bad…" That made me so impatient. He stood up, pulled his shirt back on, and helped me up. He tilted his head and looked over my left shoulder, four feet away.
I followed his emerald eyes. They stared down to our feet, at my lime green shoelaces. After a few heartbeats, he glanced away. Again, I traced his gaze, but this time he spoke softly, the words barely touching his lips as he said them.
"How can I be sure?"
Not knowing if he intended on me to hear, I just turned my face to look at his. In the same moment, he swapped his gaze from the forest beyond, to my eyes, as if he was trying to see beyond them to my soul.
"Of what?" I feebly replied, now knowing that he was speaking to me but too mesmerized by his stare to raise my voice any louder.
He took my hand and held it against his heart. "Of whether or not I can stand
to be without you, Riley."
I lost myself in that moment. I immediately pulled my face to his and felt his lips passionately on mine. My heart seemed to have lost control as well, for it thudded against my chest so loud, I thought that my mom could hear it from the house a mile away.
I don't know how long we stood there in each other's arms until he gently pulled away.
"We should go, baby. It's almost dusk. Your mom will wonder where you are."
I heavily sighed. "Oh, but I don't wanna go," but I thought about what would happen if Mom realized I had been "taking pictures" for almost two hours. "Okay, fine." I turned to leave, but he grabbed my hand.
"Wait." He leaned in and kissed me one more time before walking out of the clearing, with his soulmate by his side.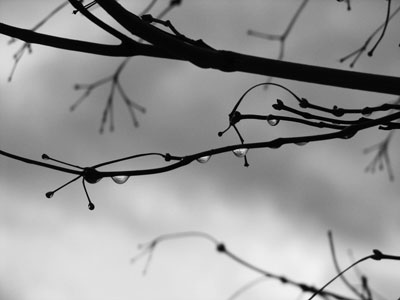 © Carly M., Hopedale, MA