Concentration
February 20, 2011
Paul walks into the Spanish classroom. It seems darker than usual and the Spongebob poster on the wall saying "Yo soy Spongebob" doesn't make him grin like it usually does. The Spanish III test will be a lot more challenging than the Spanish II test that the rest of the sophomores are taking. Nevertheless, Paul is confident to take this test; he always is.

Paul sits down in his usual front row center seat and maintains his perfect posture as he waits for the rest of the class to arrive so he can begin the test. He tries not to think of anything but Spanish so he won't get distracted with his current situation. Hoy es el trece de noviembre. gustar, gusta, and gustan. That means to love. Even conjugating verbs reminds him of her.

Paul's loafers are transfixed on the ground and his red striped shirt is buttoned all the way to the top. His friends would make fun of him sometimes that the red stripes made him look like Waldo from the Where's Waldo books. One year for the holidays, they even bought him a matching red striped hat. Sometimes they just don't get it, Paul thought to himself. They would always tease him about how he looked at Jaime. At least now they can't tease me about that; I guess that's one benefit of breaking up with her. He feels a sudden chill down his spine.

By the time that everyone is seated and ready to begin the exam, Paul's mind is off on a tangent. He feels like the butterflies that once fluttered in his stomach, flew up into his chest and are now slowly and painfully eating at his wounded heart. SPANISH, Paul forces himself to focus maintaining a stern look on his face; he is terrified to show emotion. The boy directs his attention towards the exam in front of him… and then at the clock. Fifteen minutes into the period and all he wrote was his name. No wait, Jaime's name.

Paul looks up at the Spanish teacher. She's fat. Tall, fat, and her flaming blonde hair is comical, to say the least. She sits in her chair with her eyes closed. Her neon green I-pod is attached to her florescent pink earbuds which is probably blasting Ricky Martin's "Livin' La Vida Loca". Nobody in the Spanish III class of achievers would even think about cheating. Her necklace is a silver heart. Paul gave Jaime a silver heart for her birthday, daintier than Senora's of course. Jaime loved the gift when he gave it to her on February second; they were at one of Zagat's highest rated vegetarian restaurants in Tribeca. Paul had called three months in advance to make the reservation. Jaime was wearing a blue argyle dress, which was cut lower than most of the articles in her rather small closet. She also wore her Tori Birch flats, the nicest shoes she owned. Jaime was never a fan of heels because she didn't see the point of deliberately making herself uncomfortable. "Go out with me?" Paul asked her in one bold fast move. His friend Jon said it would be like ripping off a band-aid, but it was more like ripping out an IV. When she said yes, however, it felt like a happiness that Paul had never known before. He felt like going to the top of the Empire State building and screaming every love song he knew. Of course, reader, you know by now that Paul would never ACTUALLY do such a thing. "I'll miss her," he thought to himself and then, with five minutes left in the period, he began question number one.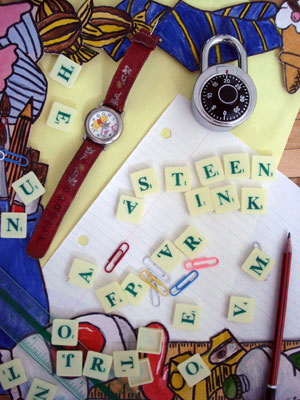 © Ama L., Ottawa, ON, Canada