Waiting... A Sequel to Just… Please?
February 23, 2011
My treasured cell phone sits on my desk, silent as ever, as I write this. It's been two weeks, three days, one hour, and thirty-nine minutes and counting; still no call. From whom? Well, it's not that important… Just the one guy I had ever given second glance at.


I called him on Tuesday, February 8, 2011 at 4:28 pm. Yes, I documented that moment, hoping it would have led into something bigger. The few days that followed that historic moment (or so I thought) passed by like molasses dripping from a bottle. I waited anxiously for that one call, bringing my phone everywhere: the bathroom, to meals, into class… It accompanied me to the ballet studio, to clarinet lessons, into the Band room… Basically, everywhere I went, it tagged along, just so that if that awaited call finally came, I would not miss those precious minutes it rang and vibrated. So then how come it never came?


When I had nervously called him on Tuesday, February 8, 2011 at 4:28 pm, he didn't pick up. Disappointed, I had left him a barely understandable hurried message. Was this why he never called back? Because he couldn't understand who it was or why I was calling? What if he has a busy schedule and didn't have the time to call back? What if he, like me, was just simply too nervous to call? Should I give him a chance and keep waiting?


Desperate and worried, I turned to my friend. She herself was in a serious relationship and didn't understand my doubts and fears. My conversation with her, at that time, had seemed pointless and had confirmed my worst fear:




Guitargirl130: Hey. Did you get the call yet? How's it going with him?





Balletwawa: No…




Guitargirl130: Ok… 1) Don't panic.




Balletwawa: But… I can't! I'm never gonna see him again!




Guitargirl130: Just hear me out. 2) If a guy doesn't call you back after a month
of rehearsals together and he still doesn't notice you, he doesn't deserve
you!


Balletwawa: Easy for you to say…




Guitargirl130: Now, to stop liking him, just try to think of all of his faults! Not
calling you back is a starter…




Balletwawa: …


My other friend agreed. I grudgingly tried to stop liking him, but the more I blocked him from my thoughts, the more he appeared. Discouraged, I threw myself into the world of ballet and clarinet where he was not present. Then disaster struck- my school's symphonic band had decided to play the piece, Toccata for Band. That piece had also been played with him during the short duration of All Shore. How can I block him now?



It's been two weeks, three days, two hours, and five minutes. Still, I am waiting for his call. Can a girl keep waiting for that long without loosing hope? Apparently so.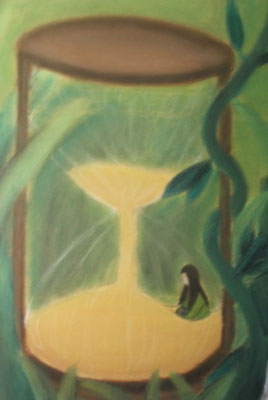 © Carollynn G., Hawthorne, NY