The Dock
February 14, 2011
"Draw me Marsy. How come you've never drawn a portrait of me all this time we've been friends?"

"I don't know. You've never asked. Go ahead, sit down won't you." I gestured to the edge of the dock. It was sunset, and I felt that if he sat on the edge, the sun would beam on his face, illuminating it, highlighting his features.

"Like this? How do you want me to pose? I want this to be memorable Marsy, something special." As he said this, he made a dramatic pose, trying to lighten up the mood.

"Ha," I giggled, and stood up, walking towards him. "Alright Jack, don't be alarmed, but I need to touch your face. It's a trick my father taught me when I was young. Just hold still okay?" He stiffened his body, and held his head still. I reached out to graze my hand against his sharp jaw bone. I moved from his jaw to trace over his eyebrow, then down his short nose which, still curved up at the end. I ended by tracing my fingers lightly over his lips, outlining them. I felt his eyes boring into my head, and looked up from his lips and to his eyes. He stood up, still looking at me. He took my sketchbook from my hands, and placed it on the dock. As he rose again, to his full height, my breath was taken away by the deepness of his grey eyes. He glanced down at my lips, and then proceeded to lick his own. He cupped my cheek in the palm of his hand and brushed my lips with his thumb. I lifted my own hand and placed it at the base of his neck, twirling my fingers in his red curls. He leaned down and paused a breath away from kissing my lips. We stayed like this for some time, just in each others arms, not moving, just breathing. I was the first to pull away. I remembered that I had a boyfriend, who was very kind and would never forgive me if he saw me with Jack. Milo already had his suspicions about Jack and me. He always thought we were more than friends. "We're just friends," I would tell him over and over again.

"Jack, I have to go. Milo asked me to meet with him after dinner…" My arm fell from over his shoulder to my side, and I looked down, ashamed.

"Right…yes, Milo is looking for you, that's actually what I came down here to tell you. He said that he wants to see you." Jack looked down at his feet too, not daring to look at me.

"Right," I picked my sketch book up from the dock and turned around right into his chest. "Oh, sorry," we fumbled, trying to make way for each other. Finally I stepped to the side, and nodded my head. "Good night Jack."

"Wait, Marsy," Jack ran to catch up with me and I swiveled on one heel to face him.

"Yes?"

He looked at me, and bent down and brushed his lips lightly against mine. Unable to truly assess what was going on, I didn't move. In fact, I kissed him back. He slowly pulled away to look deep into my eyes. "Good night Marsy." He whispered in my ear.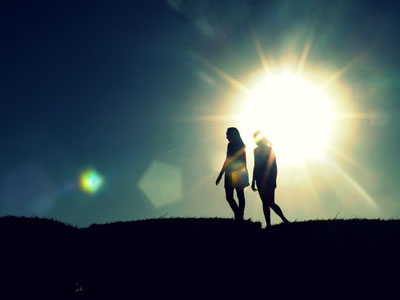 © Alexzandria R., Salem, OR