The Girl With Urban Hair
January 14, 2011
Today I'll do it.
Toady is the day.
I know I'll do it, I want too.
He'll come round that corner and I will do it.
What if he walks by?
What if he's forgotten?
What if?
The universal question I never knew what if because I never did the crazy stupid things that the other girls did. I wasn't brave enough. Or maybe I was and that's why he doesn't see me.
Because I'm not really there. Not really.
I was there once and I use to wait here every day, he use to stop and look at the fragile girl with the deep eyes and urban hair. But then he'd walk on by and never look back.
It seems silly to wait here every day now, to see the boy who always walks by.
Since this boy can no longer see the girl with deeps eyes and urban hair. But still I wait. And wonder.
What if?
What if he could see me one last time?
What if I could speak to him?
Today, today I'll do it.
Too late was I lost in my thoughts before a tall lanky boy with shaggy hair and wide wondering eyes rounded the corner, I felt him before I saw him because the streets always seemed to quieten in his presence as if in awe of the great beauty they are beholding and he walked by aimlessly unaware of the bliss he restored in all things missing and lost and even to the things that didn't know they were lost or missing. My breath, should I have had any, caught in my throat. He truly was amazing.
A back pack slung over his shoulder, a smile on his delicate face. Yet he seemed sad. The birds no longer sang and the tree's didn't speak. They air was solemn.
He was approaching me. He reached the tree on the end of the corner, ribbons and flowers tied round this tree. Notes from friends and family, gifts I'd never used left to remember a "lively loving girl" sometimes I wonder if they knew me at all. To see such lies as : "you will be sorely missed" and "my darling angel heave deserves you" written to effortlessly on scraps of paper as if these would be some comfort to them more than to me, it sickened me.
No sooner had my blood ran cold then the boy came up to the tree. He stood beside me and never saw me. In this hand that I had not noticed before was a bouquet of sunflowers.
My favourite flower.
How'd he know?
He laid them beside the tree and knelt down to adjust them. I looked at the note that accompanied this simple jester.
"This corner seems empty without my deep eyed urban haired beauty." I half smiled had it not been for he didn't mean it. It was a simple jester of mourning.
Or was it?
His voice ran like silk when I heard him laugh on the many occasions I use to watch him walk away but now it was shaky and broken.
"I never even knew your name." tears raced down his face. I wish I could wipe them but my fingers were pale and weightless and would have been as useless as my death.
I cried with him for many moments till he got up to leave. He meant every word of his note so in one last desperate attempt to complete my life, whether I was living it or not, I called out to him.
"My name is Evangeline!" I knew he could never hear me for I was no among his world anymore. As I turned to walk away. He ran back to the tree, I spun round but remembered he left his pack at the side of the tree when he placed the flowers, he stood so gracefully trying hard to compose himself but he did something beyond the cool exterior I had come to understand.
He hugged the tree.
"I love you, Evangeline."
My life was complete. I'd do it today. I'd spoke to the shaggy haired wide eyed wondering boy.
And he had heard me.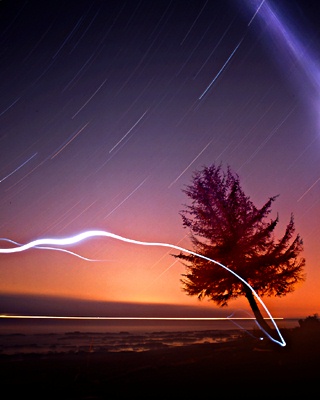 © Joey M., Spokane, WA