Hi, I want to know you.
January 8, 2011
Hi, I want to know you. We will be best friends. We will play in the mud and catch fireflies together. I will stand on my head and you will laugh. I will do it again and again and again because your laugh is music. Orchestra music. Perfect, wonderful music, dipping and swaying, rising and falling. Yes, Your laugh is music.


Hi, you're very pretty. Your tan skin makes me think of carmel. Golden brown and warm. You make me feel like carmel too, sweet and goey inside. You do, with your dazzling grin and the way you say hello; when you say my name I melt, just like carmel.


Hi, you make my insides smile. When you push me on the swing and I giggle when you tug my braid, I don't think I could handle the pressure of one more ounce of happiness. When you look me in the eyes, my chest pounds so hard I think I will explode.


Hi, You give me butterflies. Huge, Mammoth, Massive butterflies flapping in my stomach. Pinch me to make sure I'm not dreaming. You laugh and say I'm silly. I say, "only silly for you" and turn a incriminating shade of pink. You holler a tarzan shout and do a cartwheel. We whoop and tumble and run. When we run out of breath we fall asleep in the grass.


Hi, I'm the luckiest human being. We will twirl in the rain and wish on shooting stars. I will be your number one fan at your baseball games and you will bring me flowers when I'm sick. If you promise to sing to me under the stars, I will promise to wear the blue dress you love.


Hi, I think I love you. Yes, I think it's true. The way you chew your bubble gum, the way you flip your hair, when you speak softly, your tiny frown of concentration, your kind, twinking eyes, when you tell me that you've missed me. Yes, pieces of you that make me love you.


Hi, Please stay with me forever.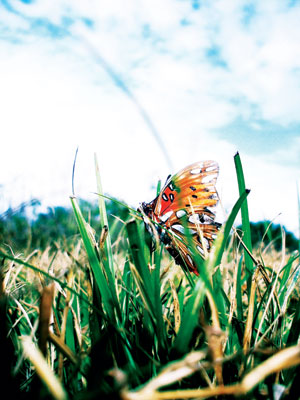 © Ashley B., North Port, FL