Love, Loss and a Secret Witness
January 11, 2011
His eyes met hers. She see's a flicker of guilt, worry and fear. "Zara...you know I love you and I would never do anything to hurt you, right?" But she just stood there, searching in his eyes for what he was going to say before he said it...but nothing.
"Just listen very carefully. The police are going to be bursting through the doors any minute nowaccusing me of your families murder." Zara stares at Alex in disbelief. Alex? The one who was there throught everything. Alex. The one who loved her to the ends of the universe.
Alex. A murderer. "C'mon Zar! Dont look at me like that! Its not even true! You know I love you and loving you means loving the whole package; your family."
"But...but you killed them...Why? How?..."Zara spitted these words out in anger and losing all trust towards Alex, "but I didnt Zar! Thats what you have to believe! No matter what you hear or what anyone tells you! It's all because I'm..."
BANG! The sound of thunder as the doors of the house are smashed down, with SWAT teams and the FBI swarming in like bee's at a hive. Everything then happened like a flash of lightening. Her beloved Alex was being pushed up against the wall, wrought iron chains binding
his hands. Tons of officers and agents shouthing at him from left right and center. But Zara hears nothing. She just stands there, in the middle of the entrance astounded, looking into his blue blue eyes filling with guilt, worry and fear. Alex.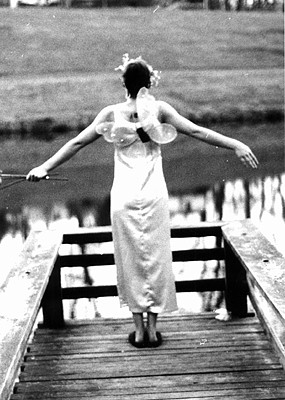 © Jennifer T., Cincinatti, OH