Quietly pining for from afar in a bookstore
January 7, 2011
Today started like any other day. I woke up with the smells of freshly cooked muffins and the sounds of the juicer going full blast. I ate with my parents and my sister, showered, got dressed and drove to The Bookworm, the bookstore that I work at. Morning after morning it's the same routine and I go into auto pilot, running through my list of daily duties I need to get done before we open. Even as I try to keep my head in my work, I can't help but sneak in pictures of him, the guy who runs through my mind daily on a never-ending loop. I check the clock and start the countdown until I see him again.

-
-
-
-
-
-
-
-
-
-
-
-


Today sucks already. First I wake up to the shrill yells of my mother and the deep bellows of my father as they have their usual morning "disagreement". While I know from past experiences that putting a pillow over your head doesn't drown out the noise, you can't blame a guy for trying. After five long minutes, I finally realize that I'm not going to be able to fall back asleep and drag myself out of bed, throw myself in the shower (freezing cold because my father insists he doesn't need to hire a plumber and take care of it himself, which he obviously failed epically at) and find some clothes to wear.

Trying to locate my backpack, I bound down the stairs and right in the middle of seeing my father strike my mom.

"Dumb b****," he spits at her, turning and walking into the kitchen, where I hear the creak of the fridge opening and a bottle of beer being opened.

I run to my mom and help her up. She tries to keep her face turned away from me, trying to hide the damage he's done time and time again.

"Why do you keep letting him do this to you?" I ask, flabbergasted that she won't end this after so many years of abuse.

"He doesn't mean it, he's just angry," she replies, extracting herself from my arms and walking into the kitchen after him.

For once, my father might be right. I grab my backpack, and rush out the door, wanting to be as far away from here as possible.

-
-
-
-
-
-
-
-
-
-
-
-


"Isby will you help Jackie shelf the new shipment of romance novels?" My supervisor Carol asks.

"Sure," I answer, trying not to cringe.

I despise Jackie! Out of all my co-workers, she is the absolute worst because she is so mean and manipulative. She is also ripped and uses her body as a way of getting everything she wants. She has the IQ of a ferret, and I think the only reason
Carol keeps her on is because she brings in half of our male customers. She also had her eyes set on him, the guy I have been pining after for weeks and compared to her, well, I can't compete.

As I walk towards the backroom where the plethora of romance novels are just waiting to be shelved and bought by women who want to escape their relationships or lack there of, I am intercepted by Jackie, who is wearing her trademark smirk.

"So you're the one Carol sent to help me. Wonderful." With that she turns on her heel and walks into the backroom without a second glance. Great, like my day could get any better.

-
-
-
-
-
-
-
-
-
-
-
-



Walking into The Bookworm, I automatically feel a sense of calm come over me. Here I know I can indulge in a sense of normal, a sense of routine. I make my way over the coffee bar, where I order my usual black, no sugar or cream, coffee. After I have that, I make my way up the stairs, and over to my favorite spot, a large over-stuffed chair in the corner, right between gardening and romance. As I make my way through the aisles and people, I spot my chair. I'm almost there when Jackie, an overly friendly worker who can't seem to take a hint, intercepts me.

"Hi Jackson. Long time no see," she giggles like it's the funniest thing in the world.

"Hi Jackie," I reply trying to move around her to my chair.

"So what are you doing tonight? My friend's having this sweet party and I still need a date."

"Um sorry, but I have, uh, plans," I manage to say, taking this opportunity to sidestep her and dive for my chair.

When I am safely seated in my chair, I realize that Jackie is still hanging around, leering at me. I try to ignore her and I bent over and grab my book out of my bag, which I dropped next to the chair. When I look back up, I see that she has moved to the back of the romance section, where she resumes shelving books, with another girl who has her back to me. Glad to see Jackie occupied for now, I turn to my book and my coffee and start to relax.

-
-
-
-
-
-
-
-
-
-
-
-


"Hi Jackson. Long time no see," I hear Jackie say in her nasally, high-pitched whine.

When I look up from the box of book's I'm shelving, there he is, wearing a worn leather bomber jacket and ripped-at-the-knee jeans. His chestnut hair is adorably tousled and just a little bit too long. It hangs down into his eye's, which I believe are blue, but I haven't ever looked him in the eye for very long. Every time our eyes lock, I always break the connection because I feel embarrassed for being caught staring at him.

"Hi Jackie," he replies, a look of irritation crossing his features.

Listening in to Jackie's conversations are always a great source of amusement for me and this time she doesn't disappoint. He shuts her down flat and then huffs back over to me, where I am shelving the historical romance novels, the ones with the women in the Victorian gowns that are being ripped from their bosoms by passions crazed men who are wearing next to nothing.

After ten minutes of shelving books in tensed silence—Jackie is still distraught after her rejection—I stand up.

"I'm done with my half. I'm gonna go back downstairs," I announce, adjusting my shirt and starting towards the stairs.

"Fine," Jackie snarls back, drilling holes in to my back with her eyes.

As I walk, I pass by his chair and even though I tell myself not to stare, my eyes don't listen. I turn my heads towards him and when I do, I see that is already looking at me. Quickly, I whip my head back around and hurry down the stairs. Once again I am caught, staring shamelessly.

-
-
-
-
-
-
-
-
-
-
-
-




"I'm done with my half. I'm gonna go back downstairs," I hear.

When I look up, I finally see the other girls face and it instantly captures my attention. It's her! The girl who is always wondering around the store, helping customers pick out just the right book for them and who always has a smile on her face. Mandy's the time I've heard her listing the pro's and con's to certain books and arguing over the which book is an author's best.

She is so adorable, with her brown hair held back in a loose ponytail with a few escaped strands framing her face. I know I'm staring, but I can't help it; she is so interesting to me because I have never met someone who loves books like I do and I have a feeling that she just might. When she meets my eyes, she quickly looks away and hops down the stairs. After watching her retreating figure till she is out of eyesight, I pack up my things and head down the stairs, not sure what I'm going to do, but just knowing that I have to follow her.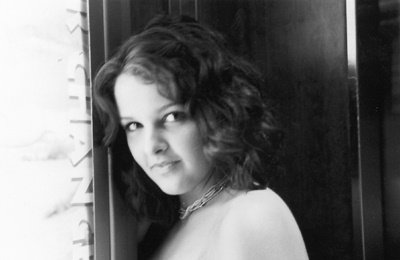 © Ashley T., Pointe-Claire, QC, Canada