Aire's story
January 6, 2011
I sit in my room, moving my paper birds around seeing what kinda tricks I can do with them. Then out of nowhere my phone starts ringing. So I try to use the air to move it but while doing that all the birds fall, so I give up and just go and grab it and what do you know its my boyfriend Alex.
"Hi babe. How are you," I say.
"Good hun and you."
"Better now that I'm talking to you."
"Thanks."
"So what you call for."
"Oh ya I was going to tell you that there is a party tonight and i wanted to know if you wanted to go."
"Sure I would love to."
"Ok I'll get you at 8. Love ya. Bye."
"Love ya too. Bye," I say then click the phone off.
I look at the clock. "Damn its only 1. What would i do for 7 hours."
I walk back to my bed and sit down. I look around and see a bird outside the window, my posters of bands like Green Day, 30 Seconds to Mars, and Black Veil Brides, all my paper birds on the green rug on top of hard wood floors, my desk with all of my paper animals, my dresser with all of mine and my sisters make-up, then i just stare at my blue wall thinking. "Ohmygod what am I going to wear and how should put my hair an what make-up should i wear."
"Chill sis this ain't your first date its just a party. But because I know how you are I'll help," says April my sister. She has recently joined the fairies so now she looks more like one than a human.
"How and when did you get in my room."
"Hey its part my room I just let you use it cuz I have to stay on campus." The fairies have to live on a campus for the first 3 year of being on so they can learn to fly. Pixies are the small tiny ones not the fairies.
"True. Ok you can help me."
"Good without me you would be lost."
"Whatever. So what should I wear."
April goes over to my closet and starts pulling out things. "How about this." She was holding up an old pair of her faded blue skinny jeans and a My Chemical Romance t-shirt.
"He don't like MY Chemical Romance but I'll wear the skinny jeans."
"Ok first what is wrong with this boy, Gerard is hot, and whatever I'll find a different shirt." She throws the skinny jeans at me and i catch them of course.
"Nothings wrong with him but it might be that Gerard is hot."
Still going throught my closet she says, "ya he is hot." She pulls out a Panic!at the Disco shirt, shows me, and then just stares at me.
"Ya okay I'll wear that as far as I know he has nothing against them."
April rolls her eyes. "Whatever," and throws the shirt at me. "Okay you change into that and I'll be back to do you make-up."
"Okay."
Her phone starts ringing as she leaves my room.
I start taking off the shorts and band tee I was wearing, but then I stop to look in the full length mirror and just start looking at myself. My breast length wavy white hair with blue streaks accents my fairie like face and big bright gold eyes. My slender body just seems awkward with my large breasts. My long fingers seem so girly for my personality, and my long legs make me feel so tall when I'm only 5' 6". I shake my head and go back to getting dressed.
After I was dressed April came back to do my make-up and hair.
"Okay Aire what kinda look you want cuz I can do alot."
"I don't care just not over board on the glitter."
"Fine."
5 minutes later she turns me around so I can see myself in the mirror. She put a bit of black eyeliner on and a smudge of red and green that made my eyes pop. Then she put a light pink stain on my lips just enough to make my lips noticeable against my pale vampire like complecrion, and she put part of my hair in a ponytail and let the rest hang down and added a few red hair extensions, "wow," was all I could say.
"Thank you and your welcome. Now you might want to start getting your stuff lined up cuz it's 7:50 and he'll be here at 8."
"Oh ya I almost forgot. Thanks. Now you can go."
"Oh fine just kick me out," she says while walking away.
she's weird i think to myself. I walk over to my ipod and start playing Knives and Pens by Black Veil Brides to try to waste time. When Perfect Weapon comes on, Alex walks in my room and asks if I'm ready to go. I look at him for a second. He's in black faded skinny jeans a Black Veil Brides tee shirt, and black converse, his shoulder length hair blew slightly as I walked closer and stared into his hazel eyes. "Ya I'm ready."
"Good lets go."
When we get there I find out its a whole lotta people from school that like screamo music so of course when we walked in Morticians Daughter was blasting from the stereos. Alex and I walk over to the bar and get really drunk, then later start talking to people we don't know in a language no one knew.
At like 4 in the morning we finally got home but he was to tired to go to his house so him and I fell asleep, okay it was more like passed out in the living room. April, at some point, put a cover on us. I woke up once, kissed him, and went back to sleep happy that I was with him.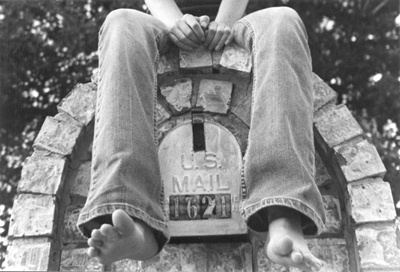 © Kris B., Lewisville, TX