the summer we met
January 1, 2011
Cccccrrrrraaaacccckkkk.
I hear the ball make contact with the bat. Short pop fly, infield. I see Alex glance up. I look up with her. The sun is blinding. It's really good she has sunglasses on. Her feet start to shuffle like they always do right before she catches a pop fly. She begins to step backwards off the pitcher's mound.
Then the noise that her and I have discussed many times. We love this noise. The noise of a ball landing solidly in your glove. "Yes!" I shout. I come out from behind home plate. We all jump over Alex. "Yeah, Alex! Way to go!" she got the last out. We won the tournament.
I look at Alex. We have this thing. She is the pitcher. I am the catcher. In most of the innings, both of us together make the outs. A passed ball, she is there to cover home and I am getting the ball and flicking. A run down, she is already to third to cover when the third baseman comes in.
We high-five. The whole team. This is the first time this has been done in years. My home town doesn't win very many things, but we still compete, odd enough as it is. Our athletic clubs have gotten better over the last year. I believe this generation is one of the more athletic generations that we have seen in a while.
Alex and I walk off the field. Me holding my facemask and glove. Her holding the ball in one hand and her gloved hand is around my shoulder. We get into the dugout and are attacked by our coached. "Good job, girls." My coach tells us. He is a rather emotionless person. I have to walk out behind the dugout to take all of my catchers gear off. I slowly walk out there. It was a really hot day and my catchers gear is black, same with our uniforms. Not a very nice combination.
I get out and begin to take my gear off "Hello, Camryn?"
"Yeah, that's me." I say, profoundly
"Hello, my name is Mr. Thomas. I am with the YSC. The Youth Softball Committee. I have some exciting news for you." This man, he doesn't seem like the athletic type. He has a large, shiny bald spot on the top of his head and a ring of salt and pepper colored hair wrapping around from one ear to the other. He is short, and not fat, but not skinny. He is wearing jeans and a dress shirt.
"Exciting news? Huh. Well, what would that be?" I asked. It is too warm for me to get into whatever has to say, really. Even though it is about softball.
"We have been going around to all the area club teams trying to set up two all star teams. The other members of the YSC feel like you would be a great addition to one of the teams. You and your pitched, Alex, over there. We would like you both on the same team. You chemistry is great and, well; frankly, we feel that if we put you two together, you will make one great team. You two would be the leaders. Are you up to this?" The man finally finishes. Is it just me or is he long winded?
"I have to go ask my mom, but I bet I can. You should probably go talk to Alex; she would want to know so she can talk to her parents, too."
"Oh, yes, well, I suppose I shall do that..." He says.
Before I can answer, we hear a crackling noise and a voice booming. We walk around to the dugouts and see a woman wearing a shirt that says 'YSC4life' on it.
"Excuse me, excuse me, can everyone hear me?" she speaks. She seems to not know what she is doing. Her mouth is way too close to the mouth piece and she is shouting as if she doesn't have it in the first place.
"Excuse me. Hello, I am Margaret Clames, from the YSC. The Youth Softball Committee. I am proud to announce that a few girls have been chosen to participate in the all-star team. What the all-star team is, it is just two teams from geneses county are put together from what seem to be the best players in the league. They are then put together based on many levels and then will compete against each other to move on to play the other counties in tournaments. It will be a very long process but be loads of fun. So, after I call your name will the chosen players please come out to the mound. From the home team; Alex Graywin and Camryn Beal. From the away team; Julie Kress."
A huge round of applause from the home side. Alex and I, we are best friend. When we hang out after games, we hear our parents talk about how they heard other player's parents say "Oh I wish my kid was like them." Or "Wow, they are really good."
I walk out onto the mound with Alex. I can't stop thinking about how long winded these people are. We get an award, we walk off.
"Congratulations Camryn!" my mom says as I walk over to her afterwards. She was MVP of her high school softball team. That's where people say I get my amazing softball skills from. Maybe.
"Thanks, Mom." I say. I am really happy I got into this all-star team, honestly. But all I really want right now is to go home and sleep. I am so tired.
My dad gets up out of his chair and walks over to me. "Well, good job Camryn. Now, let's get our stuff together. We are going to run you home, but no point taking a shower, we are going straight to the pond."
"Come on, Dad. I am tired. I want to go home." I say pleadingly.
"No Camyrn. We told your grandparents we would have dinner with them at the pond. And later we may go to the park for the concert. It will be fun. Now let's go."
Great, just how I wanted to start my afternoon. Tired. Mad. There are so many things better I could do.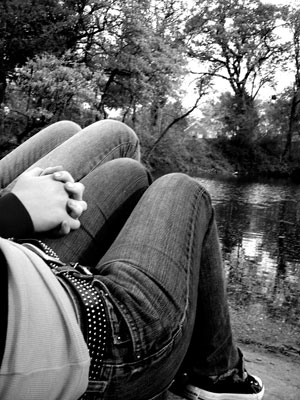 © Lauren R., Edmond, OK