The Magic of the Mistletoe
December 29, 2010
I puff out short little breaths, delighted by the little clouds that appeared in front of my face. At the age of six, with Mommy and Daddy in the cabin behind me, and snow falling all around, there was little more that I could ask for.

Suddenly, I felt something cold and hard hit my face. I turn toward the direction of the impact to find my friend, Noah, laughing next to me.

"You are such a girl!" he said between spurts of laughter. His bright green jacket stood out against the white snow, and his beanie almost covered his eyes, it was so big.

I felt the tears pricking my eyes, and I hurry up the steps of the cabin, wanting to go in and have Mommy comfort me, and Daddy offer me a cup of hot chocolate. Noah seemed to realize that something was amiss, and he hurried toward the steps, all traces of laughter gone.

Just as I was about to open the door, he grabbed my gloved hand in his own. "Cassie, stop," he pleaded, his green eyes sparkling. I don't know whether it was to tell me to stop crying, or to stop me from telling on him, but for some odd reason, I stopped right there, my little chubby hand on the doorknob.

Suddenly, I felt a warmth against my cheek. I put my hand up, covering the area, in complete shock.

"What did you do?" I asked, completely unaware.

Noah simply shrugged and pointed up. I followed the direction of his finger and found a little green plant above the door, with red berries. It twinkled, as if it were some higher being, holding plenty of things in store for us that we didn't know about just yet.

"My daddy says that you have to kiss under that plant," he looks at me again. "I don't know why, but he told me that was what you were supposed to do under a mistletoe."

"Mistletoe," I repeat, barely a whisper.

"It's supposed to be magical," Noah agrees, gazing up to the little plant. He takes notice of my stopped tears and grins widely at me, as if the mistletoe did hold the magic to stop my tears, before pushing past me into the cabin before me, where our parents were laughing and drinking. His mother came by and offered him a hot chocolate.

I snap out of the surprise I was in and barreled my way toward my own mother. There was no way that he was getting hot chocolate and I wasn't.

Ten years later…

"NOAH!" I scream at the top of my lungs, wiping away the snowball that just planted itself on my face. I hear his chuckle just as he disappears around the side of the cabin. "Oh, you are so dead!" I howl as I chase after him, a freshly packed snowball cupped in my gloved hands.

Just as I round the corner, my face gets a nice heaping pile of snow. I blink a couple of times, adjusting to the sudden cold, before I see those same green sparkling eyes that were teasing me. I feebly attempt to lob my own poorly packed snowball in his smirking face, but he easily sidesteps it.

"Darling," he teases, "You were never able to defeat me in a snowball match. I am a clear winner." He grins at me, a grin that leaves most of the girls at our school speechless. Suddenly, for some odd reason, I couldn't feel my knees working correctly anymore. Is it just me, or did he suddenly look very cute in his green beanie and snow jacket?

I shake the feelings out of my head. I suppose getting a face-full of snow doesn't help the thinking process.

Wiping of the snow from my face, I put on a scowl, but Noah just grins some more. When did the chubby little kid in the neon green snow jacket grow up? He was a brother, not a potential boyfriend. Especially since was the target of most of the girls at school; why would he even look at me, his sister, twice?

I throw my hands up in surrender. "You're right. You're the winner, but in my eyes, you will always be a loser." I stick out my tongue before spinning on my heel to go inside. Dad's making his famous hot chocolate, and I will definitely be the first one to drink it.

He chuckles at my oxymoron before following me, his feet crunching the snow. Just as I'm about to open the door, he grabs my hand. Chills shoot up my back; what is happening to me?

I turn around and find me abnormally close, so close that I can feel his breathe mingle with mine. My eyes widen in surprise. "Cassie, stop," he whispers, barely audible.

Suddenly, his soft, warm lips are pressed against mine, and I resist the urge to wrap my arms around his neck. What is wrong with me?

He breaks the kiss, grinning. Oh crap, I think, smooth move, Cassie. Now you will never hear the end of this. But instead of a taunt coming out from his lips, he points up. My eyes follow his finger and find a mistletoe, patiently sitting up there in all of its glory, as if waiting for this moment to happen between us all these years.

"Is it just me, or am I getting the strangest sense of déjà vu?" he whispers close to my ear, tugging at my rainbow beanie.

"Don't you know? That's the magic of the mistletoe." I whisper, smiling, before pulling him back for another kiss.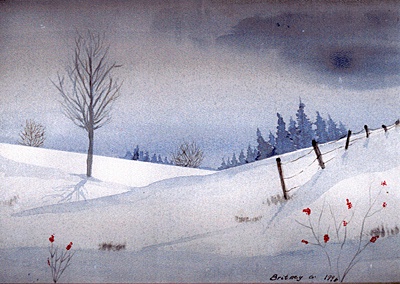 © Britney G., Green Bay, WI