True Loves First Kiss
December 19, 2010
I remember it clearly. It was on a Saturday evening towards the end of January. I had been upset about something and needed a friend, I needed my best friend to come over and tell me that everything would be ok. Sitting on my sofa we spoke about my troubles, after my problems were resolved we joked around and spoke about our memories. Then we stopped. He stared me in the eyes. He smiled. Butterflies became alive within me. I hadn't realised that my true love had been with me all a long. Thoughts were running through my mind, was this right? Am I in a dream? It was then when his soft passionate lips softly caressed my untouched mouth.

As I kissed him everything else turned grey and I felt as though we were the only two people in the world. I guess they call it falling in love as people don't tend to fall over things. I didn't intend to fall in love with my best friend, but I did. At the moment in time, sitting on the camel coloured sofa, I gave my best friend my heart. I gave him the ability to break it but I trusted him not too because love grows where trust is laid.

It felt as though my true loves first kiss lasted for hours on end. Something about the moment was so addictive and I never wanted it to end. A dream came true that night; a dream that I never knew I even had. Nowadays when people say 'what you seek is already there in front of you,' I'm going to believe them because in the past he had loved other people and I had loved other people, but at the second, when his lips touched mine, we knew that in reality, we loved each other.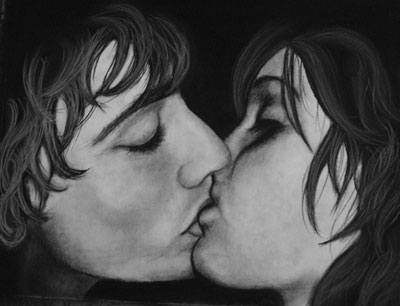 © Anna Y., St. Robert, MO