Love?
December 11, 2010
I Hate You.
It hurts to look at your face. I hate the way you talk. I hate how you're so arrogant. I hate you friends. I hate your smirk. You know you're a jerk! You hate me!
Why does that girl even talk to you, I hate her too. You're always there, always talking, always laughing. STOP! STOP! I HATE YOU! Why do you talk to them? Why not me? Never me? Only her, her hair, her eyes, her face, her phone, her friends phone, oh if I could hit her straight in the face! But no, you won't notice me. Even if I hit her would you still? Nope! No Way! Never! No how! I hate you.
You're so kind. Always asking if I'm alright. Always smiling with your smile. Always make me hurt. My hearts hurts. I'm always scrutinizing, calculating, and analyzing everything. I'm the nerd, the smart one. The privately quiet cute girl. I'm the sadly sappy girl. The tremendously terrified by EVERYTHING girl. Yeah that's me. Sorry I was born that way.
If you say "hi" did it mean SOMETHING? Or not? So nice. So smart, gorgeous, why do you have to be so nice to me, why can't I hate you like a normal hate? Why do you make me hate myself and make me feel like -it's me! Why! Why am I here? Do I suppose to endure this!
This feeling it…hurts. You make me cry. So kind, so nice, but me, you never really care for me the way you do for her! Why? Why was I born like this? Why am I so apparently unlovable?
You're so amazing.
I'm not so much of anything.
But I do love and hurt and feel. It must matter? I think I love you but you will never notice. Never hear me whisper in your hear. Never hear me cry. Never hear my heartbeat. I live to see you. But you will never see me.
But then dawn and dusk fell. And light lightening the lust grew. You knew. Somehow you knew. Maybe it was me always staring you down like an old Mexican standoff. Maybe it was because every time you talked to me I blushed. Maybe it was that letter I put in your locked in 3rd grade.
Maybe it wasn't me maybe it was you?
You! You! You! Well somehow you knew! And you turned my world around like the Trojan war! You did that once in a life time, of a thousand lives type of crazy thing. What possessed you? Why? You're so crazy! Unpredictable! I love you! Wait no I almost forgot. I hate you!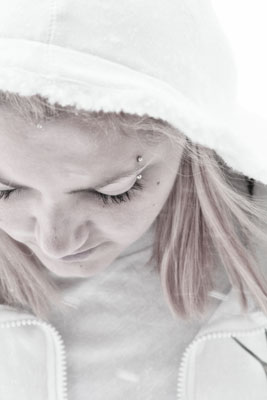 © Jessica F., Bradford, MA