The holiday that changed everything
December 11, 2010
I walked through the corridors, feeling the wind brush up against my face and then away, I could hear doors open then close, but I carried on walking, taking no notice what people were doing, I was on a mission and I wanted it to be completed. As I was walking I noticed that something was different, like the walls were a different colour and the floor was wooden, I wondered for a minute if I was reading a book and I was so into it I became part of it, but then I realised it was no book, some boys rushed past me, pushing me, making me fly into the air and fall on the floor. My things were all scattered on the floor, and it's back to reality again. I got back up and carried on walking, brushing my dark blue jeans, making sure that I hadn't got dirt on me.
I heard people laugh when I got back up, just recalling what had happened, going over it, making me blush in embarrassment, I wondered If anyone from my year had saw me, I twirled looking for someone I know, luckily for me no-one was there only people who are older than me, of course their going to laugh!
I got to Mr Kenslay's room and wandered in, looking at the dark old walls made me remember the other night, my mind flashed back to Saturday, "Mum! No! I am not going, I don't won't to" I was yelling at my mother "you have to, your dad and I have been planning this for years and you knew it was going to happen one day", "Yer but I thought I'd been older! I AM NOT GOING!!" I screamed at her as loud as I could, and that wasn't the greatest of plans "RIGHT! GET YOUR BUM IN THAT CAR NOW, YOU ARE GOING AND THAT'S FINAL!!!!!" I started to cry "NOOOOO!!!!!!!!!!" I wanted to get out of going somehow, my mum looks at me with her evil eyes "whyyyy!!!!!!! " "Cause me and your dad are going on holiday and we haven't been in a long time, just us two" I got in the car and shut the door, on the way there I didn't talk to mum or dad I just sat there, silent.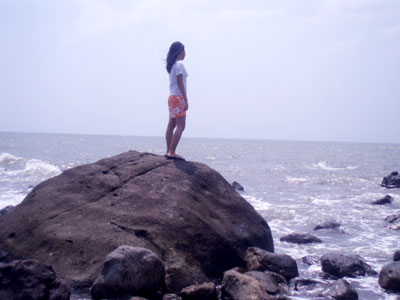 © Grace L., Bacolod City, Philippines