See You Soon
November 23, 2010
The way his hands were perfectly rested upon his legs made me realize that he's okay now. Whenever he would get angry with me, he would rest his hands on his legs, take a deep breath, and look into my eyes and say, "I'm sorry." His apologies were always accepted, since I could never stay mad at him.

I remember looking into his eyes right before that first kiss; full of terror, those beautiful brown eyes. Only thirteen years old, yet totally willing to give anything for me.

Six years later, both of us being nineteen years old. He gave life to my dreams, helping me accomplish anything. My best friend and my soul mate for eternity was right beside me. "We have our whole lives to do anything. Travel around the world, if you'd like. Just let me know, and I'll make it happen," he whispered softly into my ear.

Two more years after that, twenty one years old. The kisses got sweeter, the love grew stronger. Just as he promised me, we traveled the world. He took me to France, Italy, Austria, and Switzerland…all in one trip. It was beautiful, just like him.

Another year later, he and I were sitting down having a nice romantic dinner in our apartment. Suddenly, he got down on one knee. "I love you so much. You are the reason I want to live. I live for you. I will spend my lifetime with you, and continue to love you unconditionally. I love you with all of my heart. Will you marry me?"

Our wedding day was beautiful. We were both of age twenty-three; I was dressed in a beautiful ivory gown that flowed to the floor, and he was in a black tuxedo, looking as handsome as ever. When I got up to the altar, he held my hand and looked into my eyes. He loves me.

At age twenty-four, we decided we wanted children. Unfortunately, I was unable to have children. "Don't worry, we can make this work. Remember what I told you? 'We have our whole lives to do anything.' I meant it, I still do." Through many treatments, we finally conceived a beautiful baby boy.

When I was twenty-six, the love of my life fell ill. He was hospitalized for two years; it was the hardest thing I'd ever had to go through. Watching someone you love so much suffer is the worst.

I am standing here, reliving all the memories in my head, looking into his casket. He looks so beautiful and peaceful. I miss him so much. One tear makes its way down my face; I love him, and it's hard to see him like this. I just know that he's better this way.

I lean over his casket, kiss him on the lips one last time. "I love you," I say. I can't bare to see him again, but I know that heaven will bring me to him when it's time.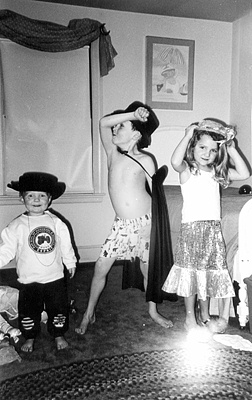 © Courtney M., Marblehead, MA