Remembering Daniel
November 29, 2010
To see him go that day was the hardest thing. No tears were shed. No good byes given. Just a soul removed from mine. Daniel was his name. We had met when we were in the fourth grade. He was the new kid in our class who was from France. I used to tease him for his French accent and he would tease me for my freckles. We would wrestle around on the play ground and get into mud fights. I was only a few houses away from his, so I would go to his house almost every weekend to run around or scooter. I was the kind of girl that liked to play rough. That was from fourth grade until the sixth grade.

Beginning of seventh grade was different though. I had not seen Daniel all summer since he had gone to France to visit relatives. It was different that summer. I did not exactly miss him since I had a lot of other friends, but I remembered him and our special play dates. Seventh grade rolled around. Upon entering my first class of that year, I recognized Daniel, but he was new to me in a way. He had grown taller maybe by four or five inches. He was taller than me now, which was no fair. His dark hair was shaggy. He was tan and his hazel eyes stood out even more behind those square glasses. Daniel was an attractive nerd under cover.

Daniel came up to me and asked how my summer went. We chatted just before class began. I said that my summer went really well and asked him how his summer was. He also enjoyed his summer by becoming immersed in French Harry Potter books. His French accent was stronger than before, which made him even more beautiful.

The first class of seventh grade started with a blur. I was confused. How could Daniel have changed so much in one summer? He was not the rambunctious kid running around anymore nor was I the tomboy. The realization that we were both growing up hit me like coldwater. The bell rang, and for the rest of the day, we spent as much time catching up with each other. I realized that Daniel still had that crazy side to him even though he had matured a lot mentally. I loved both sides. We were still the crazy friends that would get together and watch all the superhero movies such as Superman and Spiderman.

We were the friends that debated classic authors, criticized movies, or worked on science projects together. That was until end of junior year. Junior year was when we got to be serious. It was in the middle of May after our AP exams. We celebrated by going to his house. We made some pizzas and watched Family Guy till 9:30 at night. After we had finished the seventh episode, Daniel offered to walk me back home. I accepted suspiciously since he had never done this before. During that ten minute walk, he managed to ask me out to the prom the following weekend. Although I had been tired from all the studying, I was nervous and excited when I accepted the invitation. I could barely sleep from all the excitement bubbling up within me.

The next weekend was my first opportunity to wear a fancy dress and put on makeup. At a quarter to six, Daniel came by in his tuxedo. The second he saw me, he admitted he did not recognize me. I was so beautiful to him. On normal days, I had not put so much effort into how I looked; however, with all the embellishments on, I was the beauty. That night at prom made us transform from the crazy friends to the crazy lovers.

We started dating after prom. During the summer, I got a job tutoring kids math while he worked at a local library. We spent a lot of free time painting our lives. Every weekend, we would take a subway into the city to walk around and hang out. Sometimes we would wind up at the Metropolitan museum or even Time Square. The magic of summer was that it had longer days so that we could decide when our day would end. Daniel would kiss me a good night kiss before he left me by myself.

Summer ended much too soon, but it gave both of us a glimpse into the happiness of life.

Our last year in high school had already started. New classes, new teachers, changed classmates, new clothes, new hairdos, new relationships…everything was new except us. We were still together whereas many girls dumped their old boyfriends for new ones. Our senior year was filled with library dates, debate team meetings, and new stresses of filling out college applications. It was tougher to have going out dates because our lives were so busy, but we still managed to fit them in somewhere. This was our life until a week before spring break. It was our first fight. We had little fights before about where we would go sometimes, but this fight with Daniel was a major one. I ran out of his house crying. I arrived back home and immediately went to my room to sob letting my entire anger break loose. My crying failed to cease. Daniel and I argued over petty little things because of our stress. He was frustrated with me and I with him. I could not do anything right it seemed like. He called me two hours later after our fight. He apologized to me even though I knew I did not deserve it. I apologized to him and thought that everything would go back to normal. Then Daniel brought up the subject of taking a break from each other. I was not sure how to respond, but it was probably the best idea at that moment so I agreed with him.

The break up and the acceptance into college suddenly freed up my time. I did not know what to do with it. I began spending all my time studying to distract myself. I searched for internships and summer jobs. I read and walked in the park. I tried to distract myself with other things such as joining yoga classes at the nearby athletic club. My agony still lingered. After two and half months of not talking, I decided to call Daniel. He picked up after the phone rang three times.

"What's up?" I said
"I wasn't expecting you to call. I haven't talked to you in a long time."
"Remember? We took a break after that fight?"
"Yeah, I remember. Don't worry. I haven't dated since then. It's weird how we attend the same school and everything, but we both avoided each other so well."
" I know we haven't spent the last trimester with each other at all. Can you believe it? Graduation is next weekend?"
" No I can't. I still remembered meeting you in the fourth grade. Remember that?"
"Yeah, What did you think of me?"
"I thought you were the cutest girl with the freckles."
We reminisced our childhood together. I invited Daniel to my house for some coffee and we got some time to talk to each other. It was not a date but just a friend talking to another friend. He admitted that he basically did the same thing I did by distracting himself from our breakup. With graduation only a week away, Daniel and I tried to make up that time missed. We went to the library together again. Graduation morning came so soon. I woke up and looked into the mirror where my little girl picture was hanging. I compared myself. Wow, I had changed a lot. I drove to the gymnasium and changed into my gown in the girls' locker room. The graduation was long. Daniel and I met up afterwards. Our parents took us to our favorite buffet restaurant named the Teapot. Daniel and I sat in a corner.
"Liz, I need to tell you something."
"What?"
"My family is moving back to Paris. My dad's job has been relocated. We will be moving in three weeks."
"Way to drop a bomb on me."
"I'm not finished. I forgot to tell you that I am also attending Stanford."
In translation, all this constituted into meaning that he would be forever gone from me. We would never have the chance to see each other. From then on, I started blocking him out of my life. It was the best thing for me. I could not live with having him just go out of my life like that time where we had taken a break. I had to block him out so that I would not be as vulnerable to hurt when Daniel would leave me.

That day came when no tears were shed nor was there any hugs given. There were no goodbyes. He left for Paris while I stayed behind in the suburbs of New York. Deep inside I knew that I should have called or something, but I did not because it was too hard for me. I was working at a research internship in Princeton along with working in the college library as an assistant. My life was busy and full. I did not allow myself to think of Daniel. I had a new life of friends and college life.

The week before I was supposed to head off to college, I was cleaning my room. My room had been neglected from working. I piled all the dirty clothes onto the floor and hung the clean ones. I washed the dirty bed sheets and vacuumed the floor. The dirty dishes and coffee cups on my desk were whisked off to the kitchen. As I was going through piles of notes from senior classes, I found a crumpled picture of Daniel. I cried over seeing his picture and felt badly for ignoring Daniel. I had neglected our friendship that started in the fourth grade. I trashed him and took him for granted. That day, I sent an email to him and apologized for not answering any of his emails. Sending that email and getting a call from him the next day was like hitting the refresh button on my life.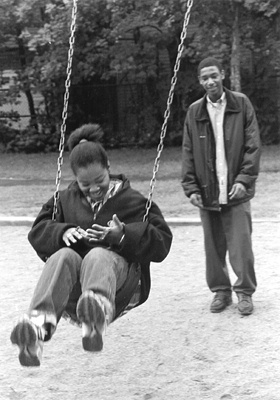 © Yaniris M., Boston, MA