King and Coffee
November 25, 2010
My head is hot like a fever, I feel restless and I can't stop moving. Soon the sensation spreads from my head to my cheeks which are now the same color of my bright auburn locks. I'm not sure if it's the cappuccino or sleep deprivation. I swear my knees were bobbing up and down, though I knew very well I was bumping his.
Strangely as I feel outwardly my heart and soul are at peace, because when I'm with him it doesn't matter what I'm doing or who I'm with… even if it's only a glance or smile I'll keep them as precious gems in the memory box of my mind. Remembering that night is like drawing up lyrics to a particular song or a file from a cabinet, every detail will live inside me until the day I die…. The black dress I wore, his blue shirt, the taste of coffee, how crowded the shop was and the corner table we sat at, how our faces brushed when he whispered something to me. It was all so perfect and now I realize just because our ages differ, it doesn't mean we have to be apart.
He was always someone I had liked but never really took seriously, then once I really noticed him for the first time, it was apparent that he could like me… in a way that I never thought possible.
It still crosses my mind, if people noticed how I paid more than usual attention to him, how we talked only to each other the entire time, and how I deliberately sat beside him, how our arms leaned together. Arm against arm, leaning into him… I almost felt him leaning back. That's when it started. Butterflies in the pit of my stomach, all because of one boy… A King.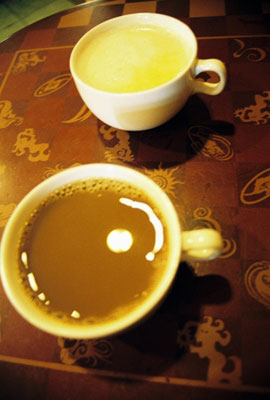 © Jaci S., Duluth, GA