Brightening the Clouds
November 21, 2010
The sun slowly slipped below the horizon, allowing light to shoot itself in every direction, turning the clouds a mix of orange and pink. Waves churned on the shore, restlessy splashing on the beach edge. Seagulls swooped down to peck at the remaining crackled chips and half-eaten hotdogs abandoned by families.

And two lovers lay next to eachother on the soft sand, silently speaking with their eyes because words could not murmur what their hearts sang.

"I want to be with you, to grow old with you. I want to have children together and see them grow up. I know it's hard to understand," whispered the handsome lover, truth escaping in his every breath, "but I can't imagine being without you" His glowing green eyes stared intensely down into his lovers, pleading for her to understand.

The young girl, a brunette who mirrored his green eyes with the same intensity, hypnotized by his words, knew that was all she needed to hear, to know. Palming his chiseled face in her hand, she tried to pour her heart the words she always wanted to speak.

"When I'm with you, I'm at my happiest point. I treasure every single moment of ours, because every moment makes me love you more. I don't understand why people divorce and break up if they love eachother. Maybe because they don't really love eachother at all, or they marry for money. But I know that we'll be different, because I will always love you" She gushed out. She waited for him to speak, searching for a sign of agreement on his face. He remained silent.

Out of nowhere, he started to laugh, the most gorgeous sound emerging from his porcelain lips, echoeing around her. Tears leaked from the corners of her beautiful eyes, blurring her vision. In between his laughter he must've taken a moment to glimpse at her because it was dying down. "Baby, what's wrong? Why are you crying?"

"You think it's funny that I love you so much? You think I'm just another lovestruck girl, right? Well, let me tell you something..." Her train of thought stopped, she noticed he was looking at her in a way that made her blush.

"What?" She asked shyly, embarassed at the way he was looking at her and from her outburst.
He took her face in his hands, warmth filing from his fingertips, quickening her heartbeat.
"I have to tell you something" he said seriously.
"What is it?" She asked again.
He brushed a strand of hair behind her ear, "I promise that I won't marry you for money" he confided.

A radiant smile creeped its way onto their young faces, brightening the clouds even more.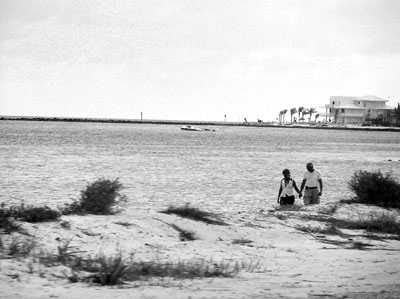 © Edgard B., Coral Springs, FL