Bonfire
November 10, 2010
We stand there in front of the bonfire, around 100 people surrounding us. I look up at your face and see you looking down at me, we smile. One moment later and I'm suddenly drawn from your gaze over to where the fireworks have set off. And over to where my best friends are looking at us with giggles on their lips. They know I like you, they want this more than I do, just to shut me up.

Then I feel your arm brush against mine as you turn away from me. It feels like your rejecting me, shutting out my love. I look to see who is more important and see your friend, I now know I'm nothing more to you, just another friend who just happens to be a girl. As you were talking about when you'll be on your xbox, I feel the back of your hand on mine. Half me is saying grab it, the other half is saying don't.

There's a call from about 2 meters away where my friends are standing, beckoning me over to them. I look at you and see there's no reason why I should stay with you. As you probably would have guessed, we were talking about you, they were talking about why we should go out, and I was talking about why I want us to go out.

I hear my name from behind me and know straight away it's your voice. I love your voice, it makes my heart mealt, it makes me shiver in a good way. I walk over to where your standing, and you ask me if I think the fireworks are romantic. I look at your face, and at your eyes which are staring right back into mine. I tell you that I think fireworks are the most romantic thing ever.

All you reply with is one word, good. Then you lean down and kiss me. It's the most romantic thing ever. After that kiss you look back at me and hold my gaze for a few minutes and then you kiss me again, this time it's a long meaningful kiss. After our kiss you ask me to be your girlfriend, it was the best day of my life so far, and nothing changed that.

After that night, when I got home, up until now, I don't like you. I love you.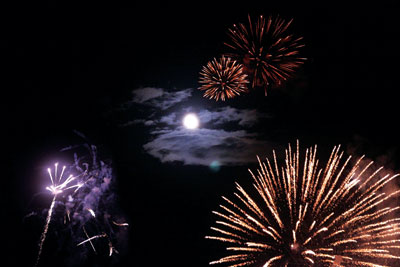 © Meena K., Groton, MA