the other side
October 31, 2010
She stares out the window pane, watching the icy cold rain drip down the fogged glass that connected the four walls together. There she stood, like stone. So many thoughts racing through her brain, it stung her like knifes. Her body suddenly jolted in the opposite direction, she wailed punching her pillow. Her face turned to the perfectly centered picture hanging on the wall. The faces were smirking, mocking her every move. As if they knew it would happen and now they laughed at her as she lay on the window ceil, as the black make-up stained her rosy cheeks like oil leaking from a car engine.
"How could I be so stupid? I hate myself. What will James think? She says sobbing into her pillow. She glares at the picture as the hatred swells throw her every vain, broiling like a well cooked soup. In an instant the picture was on the floor in a thousand pieces, an ocean of shattered glass covered the plush carpet. She collapsed holding the bent picture in her hand, mumbling curse words at the people in the picture. The girl's eyes sparkled as they looked up at the boy's. The girl was taller for her age but not taller than the boy her hair was up in a high pony tail with bangs over her eyes. She looked at the boy like he was the most precious thing in the world. He on the other hand had brown straight hair that framed his face. His eyes grazed over her silhouette as he wrapped his arm around her waist. His eyes were fixed on her eyes, so it seemed but if you look closely his eyes slipped below the neckline.
She smashed the picture in her fists. Her limbs went numb thinking about the memory that came with the picture. Wishing she could burn the boy in the picture. She took a match to the picture and watched the flames, hypnotized by the orange and yellow glow. The flame slowly died like an injured animal at the side of the road. She coiled up on the edge of her bed and wrapped her arms tightly, and hugged her knees.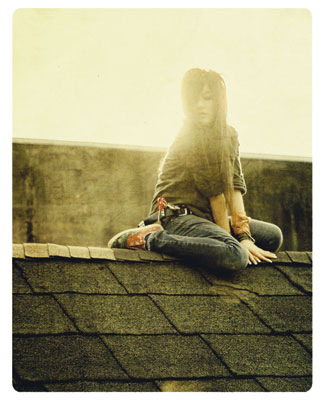 © Hailey J., Lake Oswego, OR