Sweet Lullaby
November 2, 2010
The soft sounds of a flute drift through the open window and flow across the street, dancing through the fresh night air and stretching out until Madeline feels it flow through her own curtains and into her half-awake dreams. She's never met the musician, but she still imagines that the player is handsome, that the respect he holds for his instrument is great and the need to play impossible to ignore. She can see him in her mind as his long fingers glide across the instrument in their pursuit of beauty, watches as he flips through the pages of an old book of compositions to find the first of his choices for this evening, the perfect choice with which to begin.

She doesn't recognize the piece when he finally begins to play, not that she would. She has never been one to listen to classical music, but this is as eerie as it is lovely and as familiar as it alien, and she is comfortable letting it wash over her.

His playing calls to her in the strangest sort of way, like a siren's song. She feels it drawing her in, and she wants to fall into sleep with his notes, but instead finds herself up and moving toward the window sill. The girl wants to see him, to catch a glimpse before morning comes and the beauty stops again, but she hesitates, leans her head toward the window pane and takes a deep breath, fogging up the glass until she can barely see the street below.

Delicate, tender, sensual.

Finally she calms her nerves, her heart beating erratically for someone she's never even met, and flings the window open. Instead of looking toward his own window, she tips her head back to look up at the stars. They flicker and shine in the most beautiful way, and she can't help but wonder if they are as inspired by his playing as she is.

"Beautiful," she hears someone breath from above her, and secretly she agrees, but when Madeline turns her head to nod her agreement, he is gone, and she is alone again with her quiet thoughts and the sounds of the flute. She wants to be disappointed, she's missed the first chance to see his face, but instead she just smiles and crawls back into her bed.

He isn't there with her in person, and maybe he never will be, but his music is all it takes to lull her into a calm sleep.

In her dreams the voice murmuring 'beautiful,' isn't talking about the stars, and the flute caresses her in place of the wind.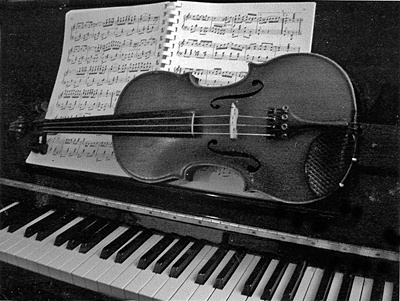 © Edwyn A., Chula Vista, CA