1950's Love Story
October 24, 2010
Snow falling on the windshield, he opened the door of his '55 Thunderbird, stepping out and slipping on his jacket then walked around and opened the passenger door helping her in. "I enjoyed the movie how about you?" - He didn't really enjoy it, it wasn't practical, how would anyone be able to find someone after they took up a different job in all of New York.

"It was good, I thought that it was romantic how they agreed to meet on top of the Empire State Building" - Why would two people agree to leave their lovers?

Looking at her, the movie was quite a sight, but nothing compares to you - "Why did I say that? She probably thinks I'm some type of loser now." - She giggled and looked at him, "Oh shut up, just focus on driving so you don't ruin your dads new car."

He pulled over, he's walked down this before, once to ask her dad if he could ask her out. He got out, it was colder, the only light was that of street lamps, it was 9:30pm all the neighbors lights were out. He walked her up the steps of their apartment, she leaned back against the door - she let go of his hand - "Thanks, it was a really nice night. I'll call you tomorrow, alright?" - He nodded, glad to hear she enjoyed it. She kissed his lips, "Don't tell anyone, I don't want them thinking things, or even worse my pa finding out." She opened the door, the warmth melting the snow, closed it, everything was cold again.

He walked up to the lamp post by his car leaning against it he just smiled.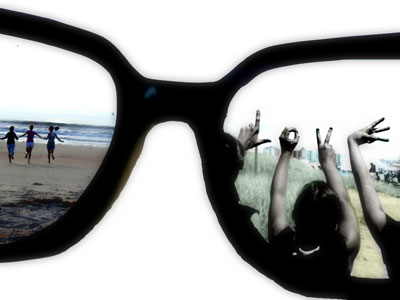 © Christina G., Bedford, NH