Then,You Watched Me
October 17, 2010
I was at the football game, big high school rivalry, and my way more outgoing than me crazy friend and I decided to sit on the wrong side of the bleachers. We sat on the home side, we were supposed to be on the visitor's side. You sat about 4 rows of bleachers in front of me, yet I could still feel a connection.
You watched me chat a little bit with my crazy friend, that is, before she ditched me for a whole group of guys who seemed to be very interested in her. I tried not to look at her as she cuddled with some guy who she just met. Whatever, I thought. I decided to keep my head in the game, as I was a crazy football fan. You watched me scream and yell my teams name. You looked at me like I was crazy, but you also looked at me with a unique wanting. I could sense this, and trust me, when you weren't watching me, I was watching you. My heart sped up as I quickly turned my attention back to the game when you turned your head back towards me. Once I realized you were watching me, I became a little nervous, I somewhat posed when I thought you were watching me, but it turns out you weren't . So I quietly reminded myself to not be nervous and to be myself. When I did that, then, you watched me.
That night, I remembered that I had gotten your number a couple of months ago when we met at my friends party. I was debating on weather or not I should text you, but I chickened out. I had this feeling that you were going to text me though, you didn't. Tomorrow morning, when I saw your name pop up on my cell phone screen, I literally jumped off of my bed and screamed. I paced my room for a while before I opened the message, and when I finally opened it, it read:
Do you know the name of the girl sitting next to you? She was really pretty.
I cried.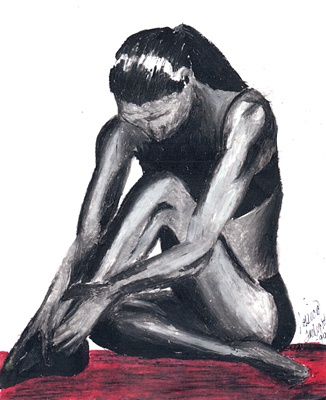 © Jessie Y., Ahwahnee, CA