My, No, Our Halloween
October 8, 2010
I let my braid fall naturally down my back as I finished stringing the brown tinsel through my hair.
Yes, it was Halloween. My sister and I were allowed to host a Halloween party at our own house! I was striving to be beautiful in my costume of Mother Nature, for my one and only crush, Drake, was coming. My sister and I were both friends with him. But he was suspected to, one day, go out with the one and only Ashley. Everyone was rooting for them, but I for one wasn't. I know it seems a little selfish, but I liked Drake a lot.
I walked outside, dressed fully in my costume, approached the bonfire, and began balancing on a log that lay beside it. It seemed very "Mother Nature"-ish. I liked it.
Finally, someone arrived. It was a red jeep that I recognized.
"Drake!" I said quietly as he jumped out of his car without a costume. He still looked great with his bulkiness.
"Hey, Tessa!" he said, waving and walking over to where I was.
He hugged me while I was on the log, and he picked me up and set me on the ground. Then I realized something. There was no Ashley.
"Where's Ashley?" I asked, seeming confused, but in truth I was in bliss.
"She had to go to church," Drake answered.
"Oh. That's too bad. We'll still have fun!"
"Heck yes!"
My sister walked out with her boyfriend, Seth, who had already arrived, Marilyn in her samuri costume and Seth in a ninja one.
"Hey, Drake!" they both said. They exchanged hugs.
Over the next few minutes, my friend, Savannah, and a few of marilyn's friends arrived and we started the party by roasting weenies. We had set a quilt in the middle of the grass where everyone could eat with a lantern in the middle. We all sat down and talked and laughed, and it started to get cold.
"Jeez, I'm cold," I said, rubbing my arms for warmth.
Drake, who sat beside me, said, "Here, take this," and handed me his jacket.
"No, it's cold. You should keep it."
"I'll be fine. You have it."
I hoped it was too dark for anyone to see my blush as I smiled and took his generous offer.
Then, suddenly, I was pulled off to the side; I looked around to see that Drake was standing before me.
"What's going on?" I said, this time truly puzzled.
"Tessa, I have to tell you something," he said, sounding serious.
I hesitated.
"Look, I really like you..." he said. My eyes got wide.
"I know Ashley wanted to go to homecoming with me, but I told her it was off. I...I want to go with you."
I suddenly had a wide smile on my face. "I would love to go with you," I said with glee.
"Yes!" Drake picked me up and spun me around. Then he kissed me. It was my first kiss, and most likely the best one I'd ever have.
We spent the rest of the night having fun with our friends.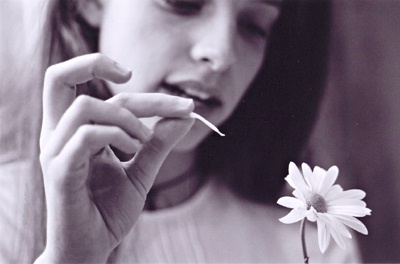 © Emily B., Houston, TX